The Smokin' Pig in Anderson
This post may contain links from which I earn a commission. Please read my disclosure policy. As an Amazon affiliate, I earn from qualifying purchases.
The Smokin' Pig is now open in the old Stoney's BBQ location in Anderson. The fourth Smokin' Pig location in ten years.
"Good food," writes Dorothy Dillon in a Google review. "Plentiful servings. Fresh. Served fast. Friendly servers. Brisket is very tender. No fake smoked flavoring here."
The Smokin' Pig is a family-owned barbecue joint. main menu items are chopped pork, brisket, chicken, and ribs.
The SC BBQ Association has named this place one of the Top 100 BBQ houses in the state.
Here is an excerpt from their review:
Also nice are the ribs which are dry rub with four sauces on the table, if you want them. And while the upstate mustard sauce was my favorite of their four, the ribs are best eaten as they serve them which is fall off the bone tender.
The barbeque, however, is better with their thinnest vinegar and pepper sauce to add a bit of pep.
Like most modern restaurants they use an Old Hickory smoker (one often also finds Southern Pride smokers) to prepare their meats and that does a good job at cooking it low and slow so as to make it tender and juicy while adding just the right amount of smoke.
Read the SCBA's full review here.
Check it out: The Smokin' Pig featured on CNN:
What's on The Smokin' Pig Menu
Note: Menu prices and options are subject to change over time. Contact the restaurant for the most up-to-date information.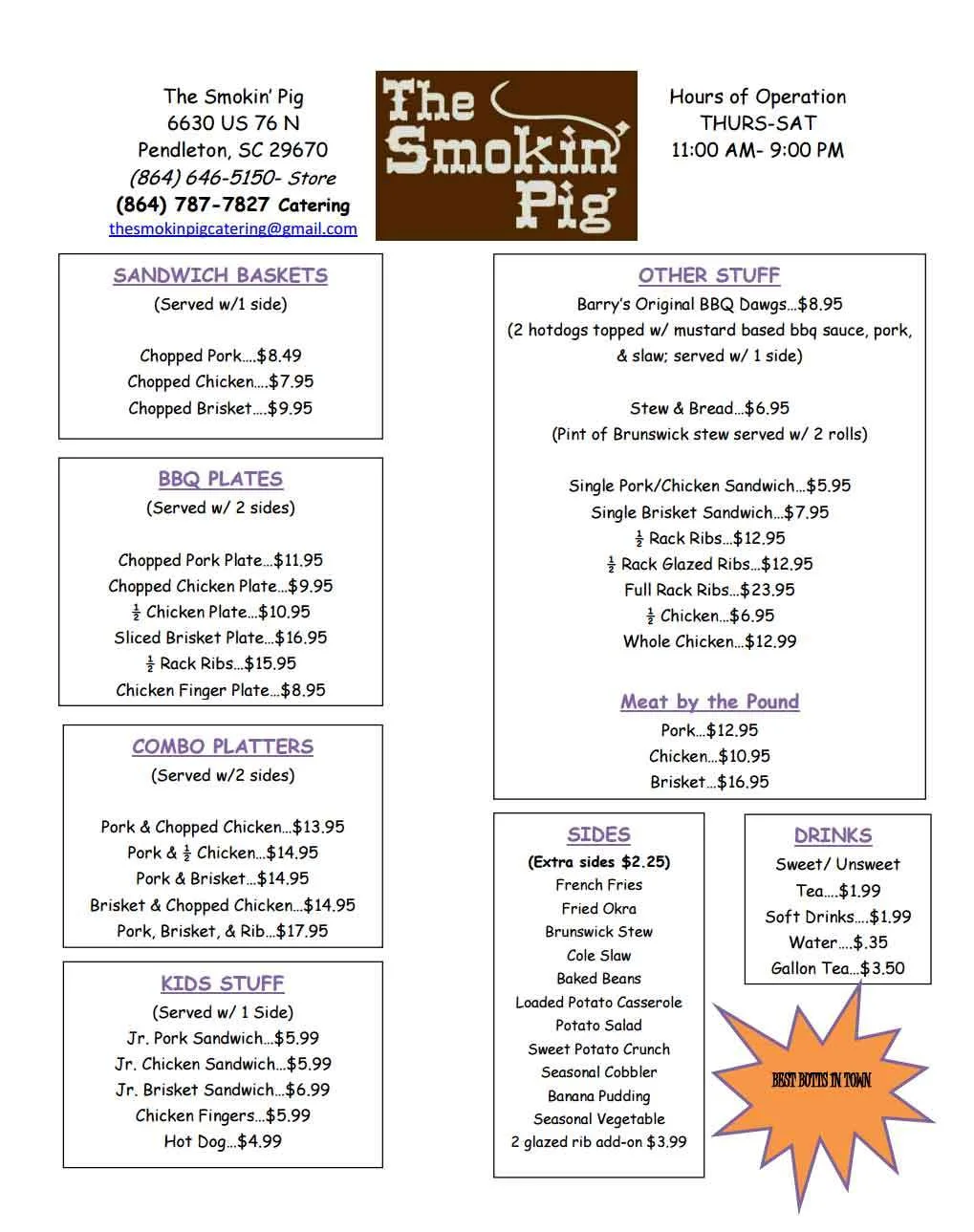 Check out The Smokin' Pig's online menu.
Visit any of these other Smokin' Pig locations:
720 Anderson Drive in Williamston
6630 Clemson Boulevard in Pendleton
701 South Pendleton Street in Easley
---
Read Sari S.'s review of The Smokin Pig on Yelp
The Smokin' Pig FAQ
What days and hours is The Smokin' Pig open?
Each of the four Smokin' Pig locations is open Thursday through Saturday from 11 am to 9 pm.
Does The Smokin' Pig serve alcohol?
No, you will not find beer, wine, or cocktails on the menu at any of The Smokin' Pig locations.
What's on the menu at The Smokin' Pig? Do they serve hash and rice?
The menu at The Smokin' Pig is obviously centered around barbecue. The smoked meats include chopped pork, chopped chicken, ribs, and brisket. Sides include fries, okra, baked beans, coleslaw, and much more. Don't forget their famous sweet potato crunch. See the full menu here.
Location, Hours, Contact Info, and More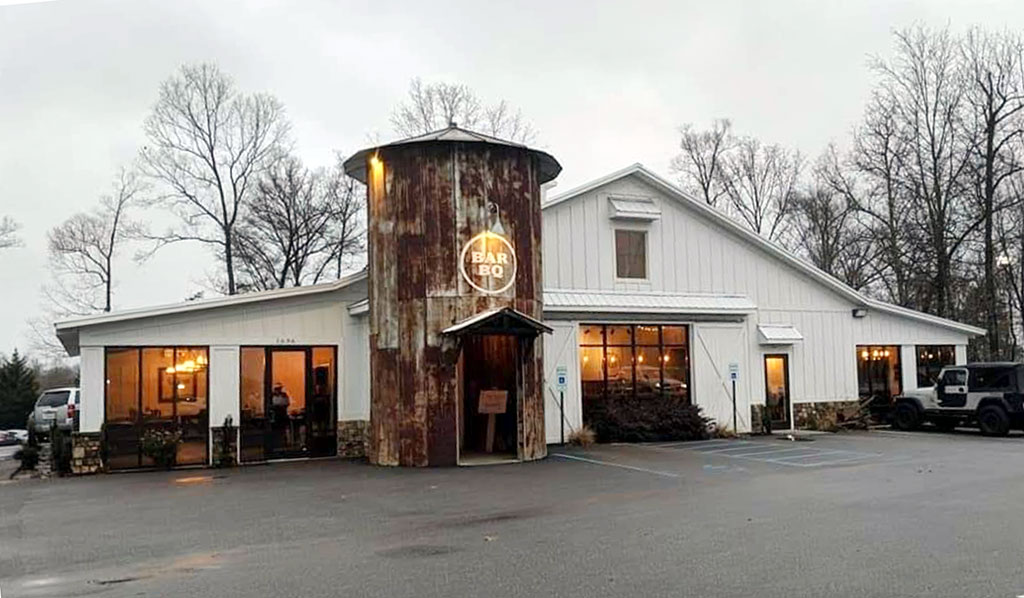 Map
Directions
Contact The Smokin' Pig in Anderson
1696 Evergreen Rd
Anderson,
SC
29621
Hours of Operation
| | |
| --- | --- |
| Monday | Closed |
| Tuesday | Closed |
| Wednesday | Closed |
| Thursday | |
| Friday | |
| Saturday | |
| Sunday | Closed |
Review Sites
Features
Cards and Cash, Heavy Tomato Sauce, Mustard Sauce, Vinegar Pepper Sauce