This post may contain affiliate links to Amazon or other vendors I trust. Please read my disclosure policy. As an Amazon affiliate, I earn from qualifying purchases.
Proudly Serving Delicious Food to the Greater Athens Area
Take a leisurely drive along Highway 78, between Athens and Lexington and you'll find the charming town of Crawford. Right at the heart of this picturesque place, there stands an early 20th-century industrial building that once housed a Ford and Chevy dealership that today is a culinary gem standing out in black and white. Its proud proclamation, emblazoned on a giant sign, reads: G Brand BBQ.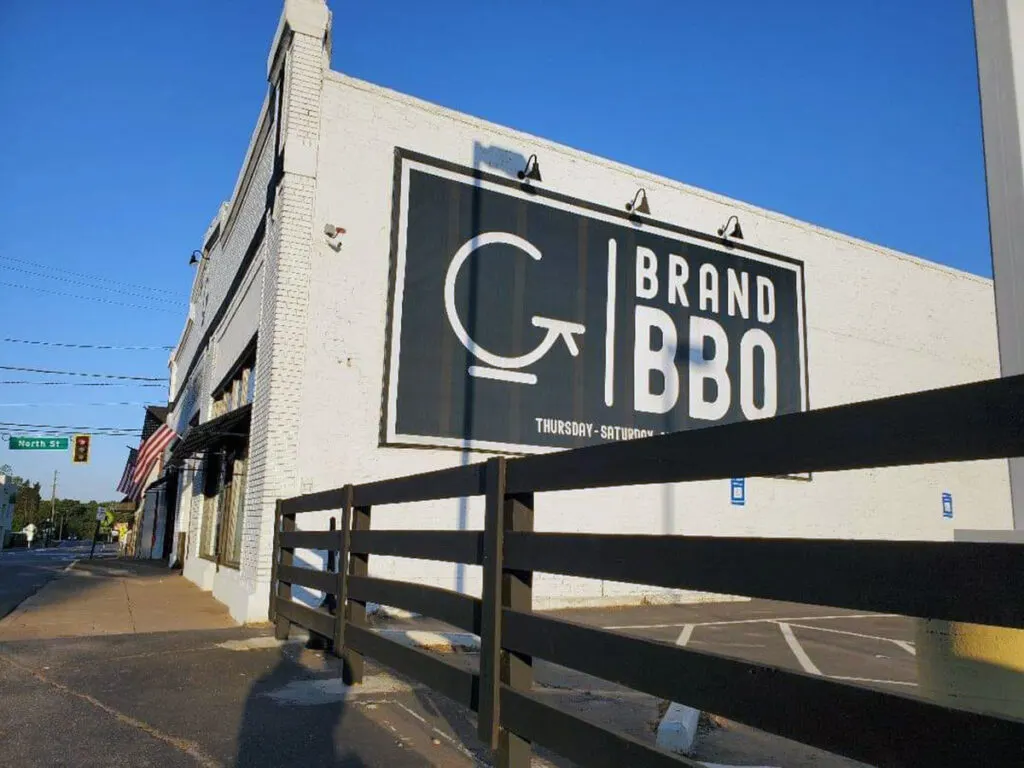 Step into the world of G Brand BBQ, a short 13 miles from the heart of Athens. Here, Fred Gretsch, a maestro of meats, brings his passion for exceptional barbecue to life.
With a background in animal agriculture and a lifetime of enjoying mouthwatering BBQ, Fred set out on a journey to create something truly special—a haven for meat lovers seeking top-notch flavors.
Picture this: succulent ribs that effortlessly tug off the bone, expertly smoked brisket that melts in your mouth, and a medley of Southern barbecue staples that will tempt your taste buds. G Brand BBQ has mastered the art of delivering unforgettable flavors.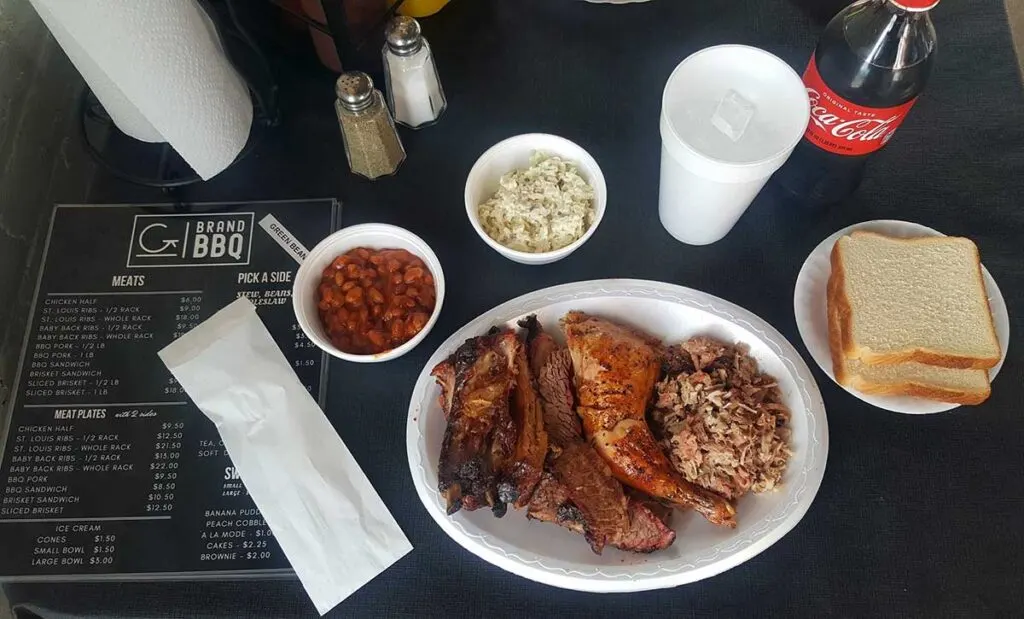 Gretsch — cattle farmer and, yes, member of the Gretsch musical instrument family — knows the secret lies in using superior cuts of meat.
"If you start well, it will end well," Fred notes as he explains the importance of using superior cuts for everything — from the brisket and pulled pork to the chicken and the stew.
Ambiance at G Brand BBQ
As you enter G Brand BBQ, be prepared for an inviting atmosphere that feels both warm and authentic. Think University of Georgia vibes intermingling with the legacy of the Gretsch family's renowned guitar and drum business all brought together in a refurbished setting that was once Cook Motor Company, originally a place cars were assembled.
"It's not cluttered and quaint—either genuinely, from years of being in business, or artificially, with fake old signs from Hobby Lobby—but neither is it hip and modern," writes Griffin Nelson in Athens Magazine. "There's no beer here, in other words, either craft or regular. What G Brand is is straightforward, clean, simple, and serious about its meats."
Meaty Menu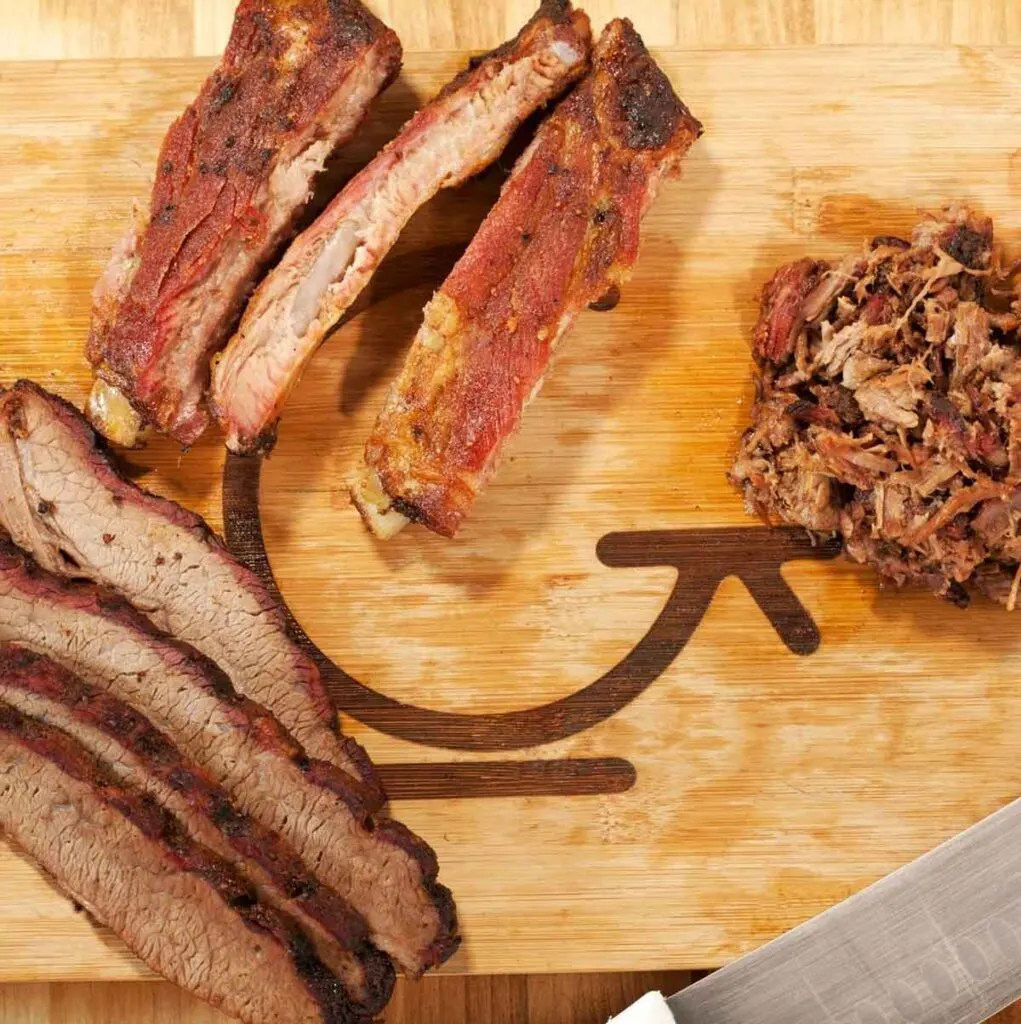 G Brand BBQ's menu is certainly not excessive, but it has exactly what you're looking for. It focuses on the Southern BBQ classics, without bogging down in trying to offer everything to everyone.
You'll appreciate their signature offerings: tender pork, smoky brisket, juicy chicken, and ribs that come in two mouthwatering variations—St. Louis and Baby Back.
The brisket takes center stage with its richness. The unctuous beef oozes moisture as it is cut specially for your order, and the smoke ring penetrates deep into the meat.
The ribs tug off the bone the way properly cooked ribs should, offering a subtle smokiness, but what stands out most is the essence of pork. It's not hidden by excessive rub or the masking flavor of a heavy sauce. These are ribs first and foremost.
The chopped pork provides a nice balance of outside bark and moist, tender inner meat. The smoke flavor is more prominent in the chopped pork, due in part to the excellent bark formed on the exterior during the smoking process.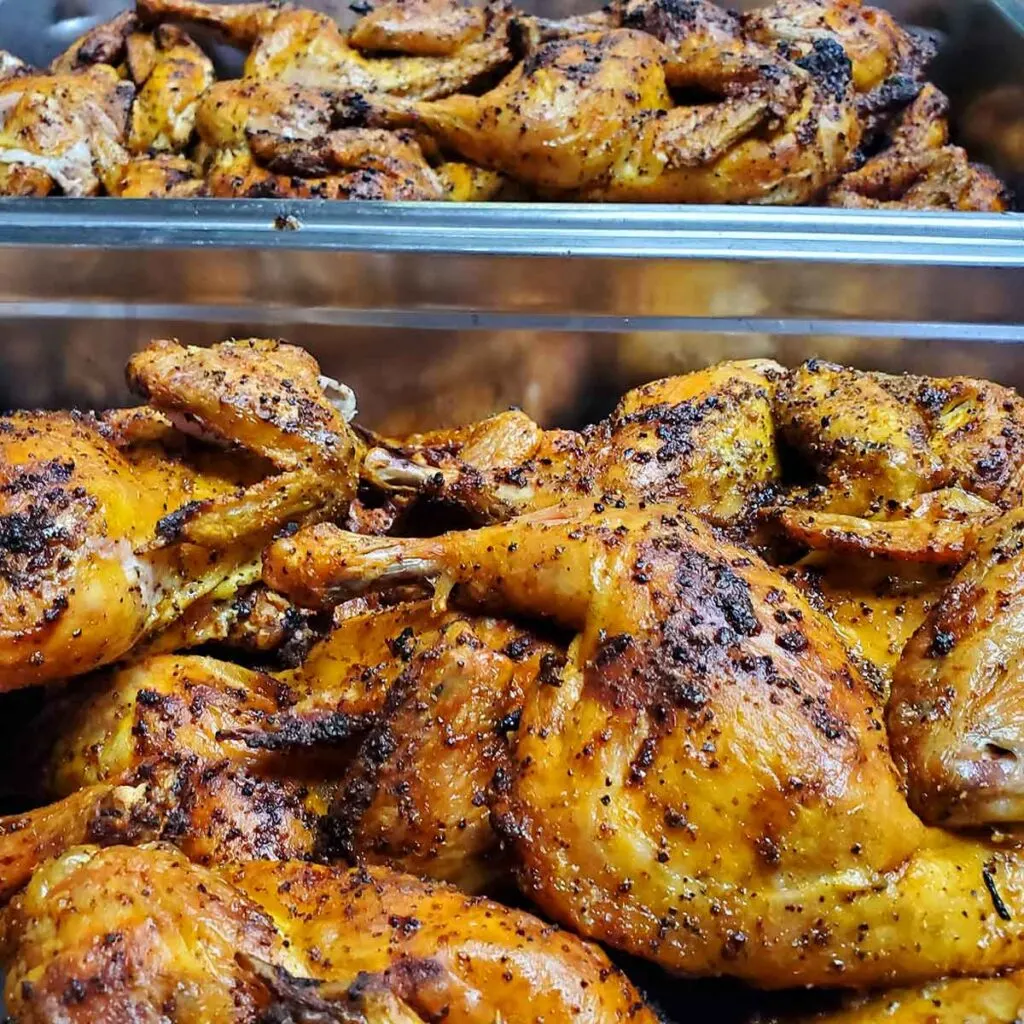 The chicken halves simply drip with juiciness. Again, a light touch with the seasoning allows the chicken itself to be the star, though the wood used during the cook is a nice complement.
On the Side
"The sides are, comparably, appropriately limited: the holy trinity of slaw, baked beans, and stew, of course," writes Hillary Brown for the Athens magazine Flagpole, "but also applesauce and, stickered onto the menu, green beans.
"Do not let tradition steer you away from those green beans, which are intensely porky and salty without turning into complete mush. They are perfect. Really, you should drive to Crawford just for those green beans.
"The slaw is almost as good and equally committed to simplicity, with not too much mayo, no sugar at all, and a clear love of the pure, vegetal sweetness of cabbage.
"The stew is not mucked up with a bunch of extraneous vegetables, and the beans are sweet but not too much so."
Gettin' Saucy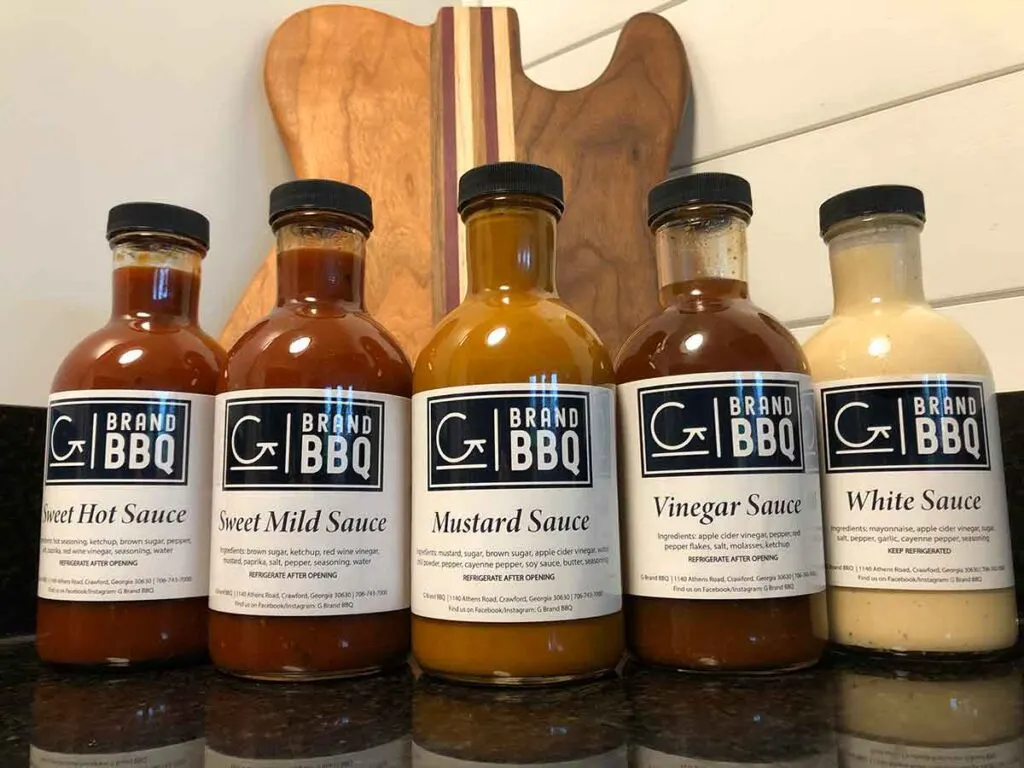 When it comes to sauces, however, G Brand BBQ does indeed offer something for everyone. With two heavy tomato sauces, one hot and one sweet, they provide what most of the US looks for in a barbecue sauce.
But the mustard and vinegar sauces offer a nod to each of the Carolinas, and the Alabama white sauce is one that would make anyone from their neighboring state feel right at home (unless, of course, the Tide are in town playing the Dawgs).
As Brown wrote, "There are as many sauce choices as there are meats, available on the tables in color-coded bottles: two sweeter Georgia-style ones (one spicy, one not), a vinegar (gloriously simple and bold), a good Carolina mustard and an excellent Alabama-style white that is perfect for the chicken."
Buying Local
Fred is not just a connoisseur of smoked meats, tasty sides, and savory sauces; he also feels a sense of obligation to the environment. Having spent a lifetime working on farms and ranches, it's important to him.
At G Brand BBQ, they embrace sustainable practices that go hand in hand with their delectable offerings. From sourcing some of their own beef from Gretsch Brothers Angus, Fred's own cattle-farming operation, to using locally sourced chicken and pork, G Brand BBQ prioritizes supporting the community and purchasing local whenever possible.
And Fred enjoys enlightening diners about the origin of their food. He's always eager to share the story behind the products at G Brand BBQ, ensuring guests feel a sense of satisfaction and pride in their food choices.
"I want people to feel good about the food choices they make," he says. "We like to answer questions and dispel myths."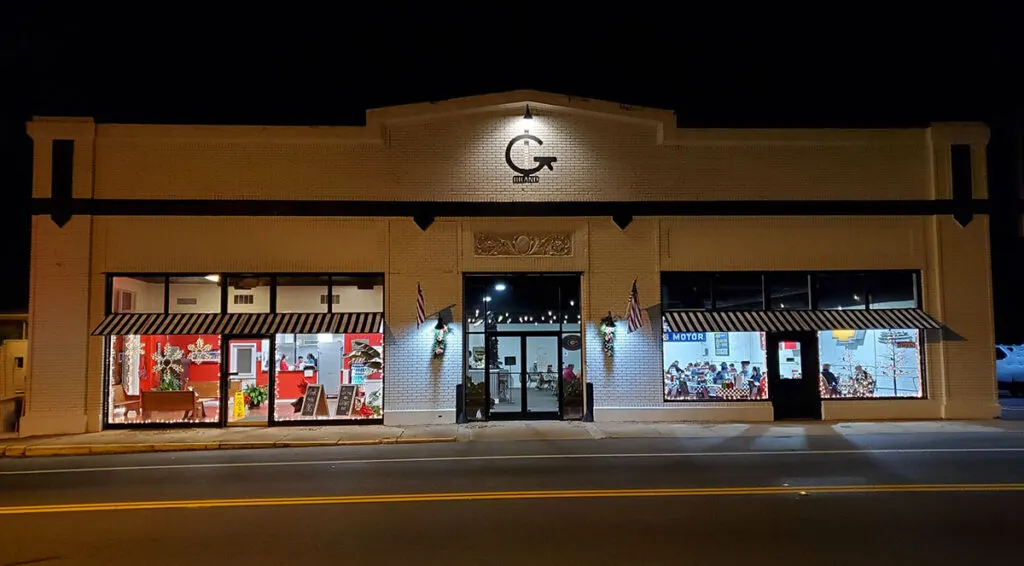 Hit the Road
In the heart of Crawford, GA, G Brand BBQ stands as a testament to the artistry of barbecue. Let your senses be captivated by the enticing aromas, the tender meats that effortlessly melt in your mouth, and the flavors that transport you to Southern culinary bliss.
With a commitment to quality, a warm and inviting atmosphere, and a dedication to sustainable practices, G Brand BBQ has become a beloved destination for barbecue enthusiasts far and wide.
So, next time you find yourself on a leisurely drive near Athens, make a beeline for G Brand BBQ in nearby Crawford. Step back in time to an era where every dish is crafted with care and passion.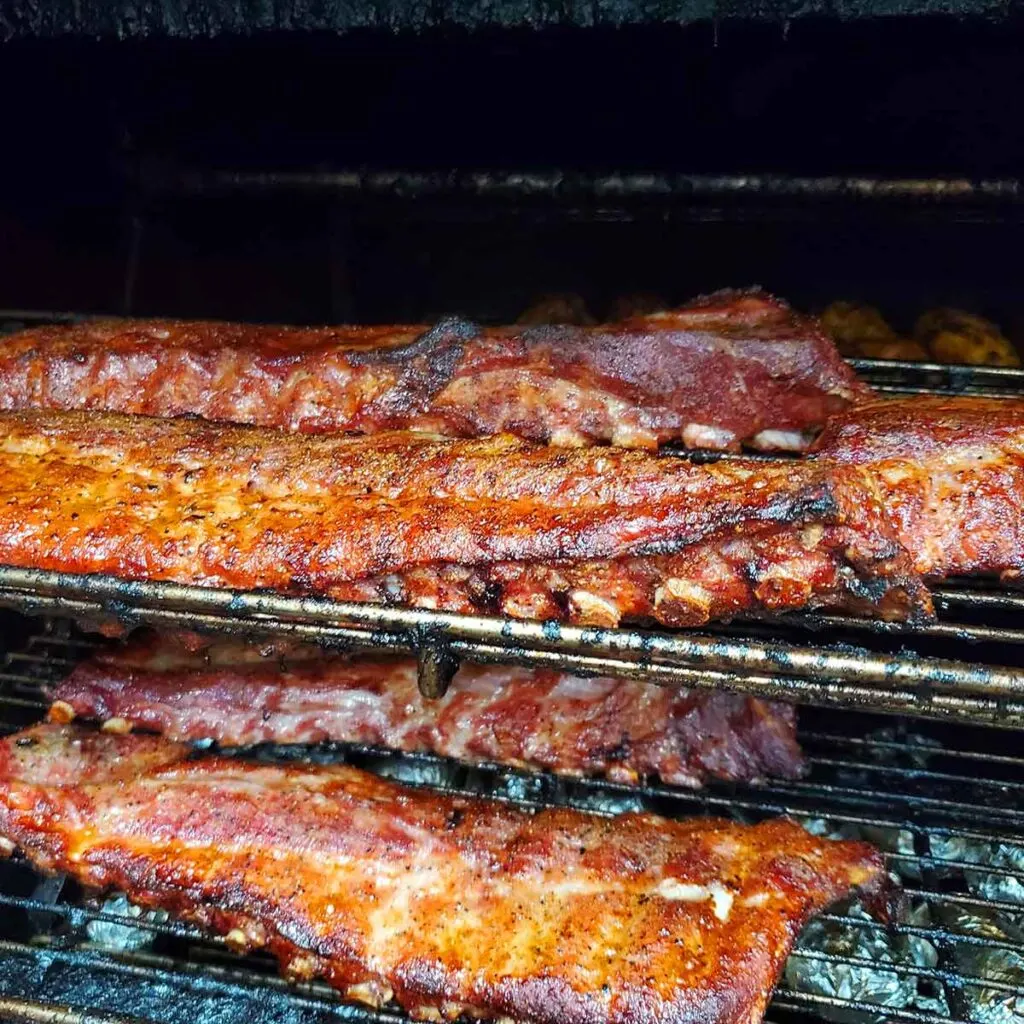 What Folks Are Saying about G Brand BBQ
Google Review
Among the many Google Reviews, Local Guide Doug Todd goes out of his way to visit G Brand BBQ, describing it as a truly memorable dining experience.
I love BBQ but if I'm going to eat it, it better be memorable. I dream about G Brand BBQ.
Our first experience was by accident: We were traveling, getting hungry, tired of driving, and running out of time to find a restaurant. We caught this place just before closing, but they warmly welcomed us, fed us, gave us a brownie for the road, and begged us to come back.
We did almost a year later, and they remembered us! Treated us like family. We bought another great meal at a reasonable price, ate it leisurely, and bought a bottle of amazing BBQ sauce to use at home and remind us of our great dining experiences.
We have to drive "out of the way" to get there, but it is well worth the extra miles and time.
Yelp Review
Over on Yelp, Jay S, who lives in a nearby community, also is one who drives the extra mile to enjoy G Brand BBQ:
Best BBQ in the Athens area! Meaty ribs, great brisket, good sides, multiple BBQ sauces to choose from, homemade desserts, and unlimited Brunswick stew. What could be better?
They have a drive-through window for carry-out customers. Service is great. Parking is adequate.
Worth the drive — just 15-20 minutes away from Athens. We live farther away and drive 30 minutes to get there because the food is so good.
Menu for G Brand BBQ
Note: Menu prices and options are subject to change over time. Contact the restaurant for the most up-to-date information.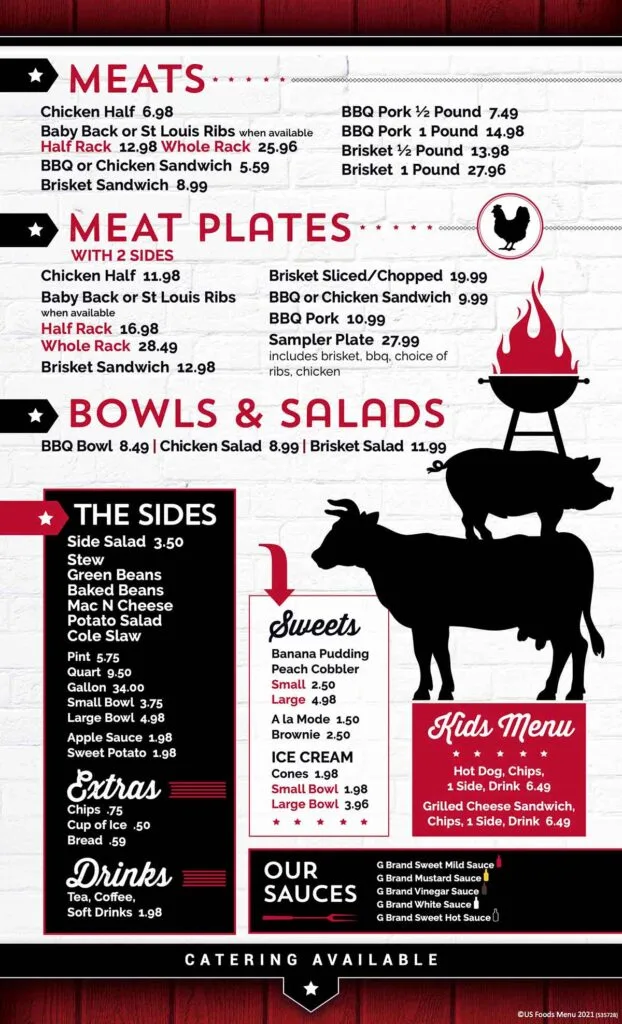 Map, Contact Info, Hours, and More
G Brand BBQ
1140 Athens Rd.
Crawford,
GA
30630
| | |
| --- | --- |
| Monday | Closed |
| Tuesday | Closed |
| Wednesday | Closed |
| Thursday | |
| Friday | |
| Saturday | |
| Sunday | Closed |
Review Sites
Features
Cards and Cash, Heavy Tomato Sauce, Light Tomato Sauce, Mustard Sauce, Vinegar Pepper Sauce, White Sauce