Henry's Smokehouse in Simpsonville
"Leanest Butt in town!"
This post may contain links from which I earn a commission. Please read my disclosure policy. As an Amazon affiliate, I earn from qualifying purchases.
At Henry's Smokehouse, we use the best ingredients, the leanest butt in town. Our BBQ is cooked in the old-fashioned Southern tradition.
We place top choice meats in open BBQ pits with hickory logs and cook them to perfection at low temperatures. Henry's cooks its pork butts for 12 hours and its ribs for over 8 hours.
That Old Fashioned Style
If you have ever had meat cooked long and slow with a distinctive hickory flavor, you begin to understand why Henry's barbeque is becoming legendary. We use the old fashion style of low and slow. Cooking almost 1000 lbs of meat per day, we use select butts, cooked over a low fire for nearly 14 hours.
We then hand pull all our BBQ removing excess fat and gristle and hand chop it. Ready to serve a delicious, tender, and moist product.
Because of that, the automation seen in other restaurants may be faster, but at Henry's, we believe in the traditional hand-pulled and selective style.
Our ribs are select St Louis cut ribs, slow-smoked for nearly 6 hours, seasoned, and served to perfection using our own dry rub recipe. Chicken is a boneless, skinless, breast, trimmed to our standards and slow-smoked to maintain maximum moistness.
And There's Brisket
In addition, we serve brisket as a special on Fridays and Saturdays.
At Henry's, we slow-smoke our brisket for 12 hours, seasoned with our own special brisket rub. You have to get there early for this one it sells out every time.
Furthermore, the finest quality pork butt is prepared to be cured into the best BBQ by the barbeque specialists at Henry's Smoke House.
Also, our barbeque is served with a choice of sauces on the side: Henry's tomato-based mild BBQ sauce and a mustard-based spicy sauce.
So, check our menu for BBQ and pork ribs, pull up a chair, roll up your sleeves, and dig into the best Southern BBQ in South Carolina… Henry's!
Finally, enjoy this video and learn a bit more about Henry's Smokehouse:
Henry's Awards and Recognitions
Henry's Smokehouse is home of the "Leanest Butt in town!"
We've won "Best in the Upstate" for 17 years
Third place whole hog in Tryon NC Blue Ridge BBQ Festival.
First place People's choice for NBBQ Association
Best sauce by the Greenville Journal.
First place ribs Project Host BBQ cook-off
First place wings Project Host BBQ cook-off
1st place Potato salad Tryon BBQ festival 2012
4th place potato salad Tryon BBQ Festival 2014
Playboy magazine June 2002 said, "Best BBQ in the world"
What Folks are Saying about Henry's Smokehouse in Simpsonville
Google Review
Among the many Google Reviews, Local Guide Sanjeev Sivakumar, a new local from the Lone Star state, was doubtful about SC BBQ. How did Henry's Smokehouse in Simpsonville stack up?
Moved to Simpsonville from Texas, and was circumspect about SC BBQ and was pleasantly impressed with Henry's. Tried their Hog (large sandwich plate). The pulled pork was succulent and perfectly done, and paired well with their home made hot sauce, fries and the peach cobbler! Loved the fact that the meat and fries are lightly salted. Will be back for more!
Yelp Review
Over on Yelp, Rob W from Simpsonville was not let down by Henry's Smokehouse in Simpsonville:
I was hungry for some good BBQ and Henry's Smokehouse did not disappoint! I had the hog pork sandwich with coleslaw of course cause that's how we roll in the Carolinas. The hash & rice and Mac and Cheese was also good for my sides. I took home a pint of banana pudding and my wife and I both loved that too. Friendly staff and cards accepted too. I'll be back again as I live in Simpsonville. Price is great for what you get too.
SC BBQ Association
Sure, folks on review sites often have great things to say about a place, but what about the folks who really know SC BBQ better than anyone? What about the folks who actually train the judges for SC BBQ competitions? What do they think of this place?
The SC BBQ Association deemed Henry's Smokehouse in Simpsonville to be 100-Mile BBQ, BBQ worth driving 100 miles for. Here's how they started their review:
Henry's used to have one place but then people started coming to that one place and now he has four restaurants. That will tell you what you need to know.
The first time I tasted Henry's barbeque was at a catering. I thought if they can deliver barbeque that tastes that good I've got to find the source. And the source was, then, on Wade Hampton Boulevard in a small restaurant that had been some other eatery in its youth. But the barbeque tasted the same as when I first tasted it, which means it was very good.
Note: today, Henry's has three locations.
See the other Henry's Smokehouse locations:
Henry's Smokehouse on Woodruff Rd
Henry's Smokehouse on Wade Hampton
---
Menu for Henry's Smokehouse in Simpsonville
Note: Menu prices and options are subject to change over time. Contact the restaurant for the most up-to-date information.
Location, Hours, Contact Info, and More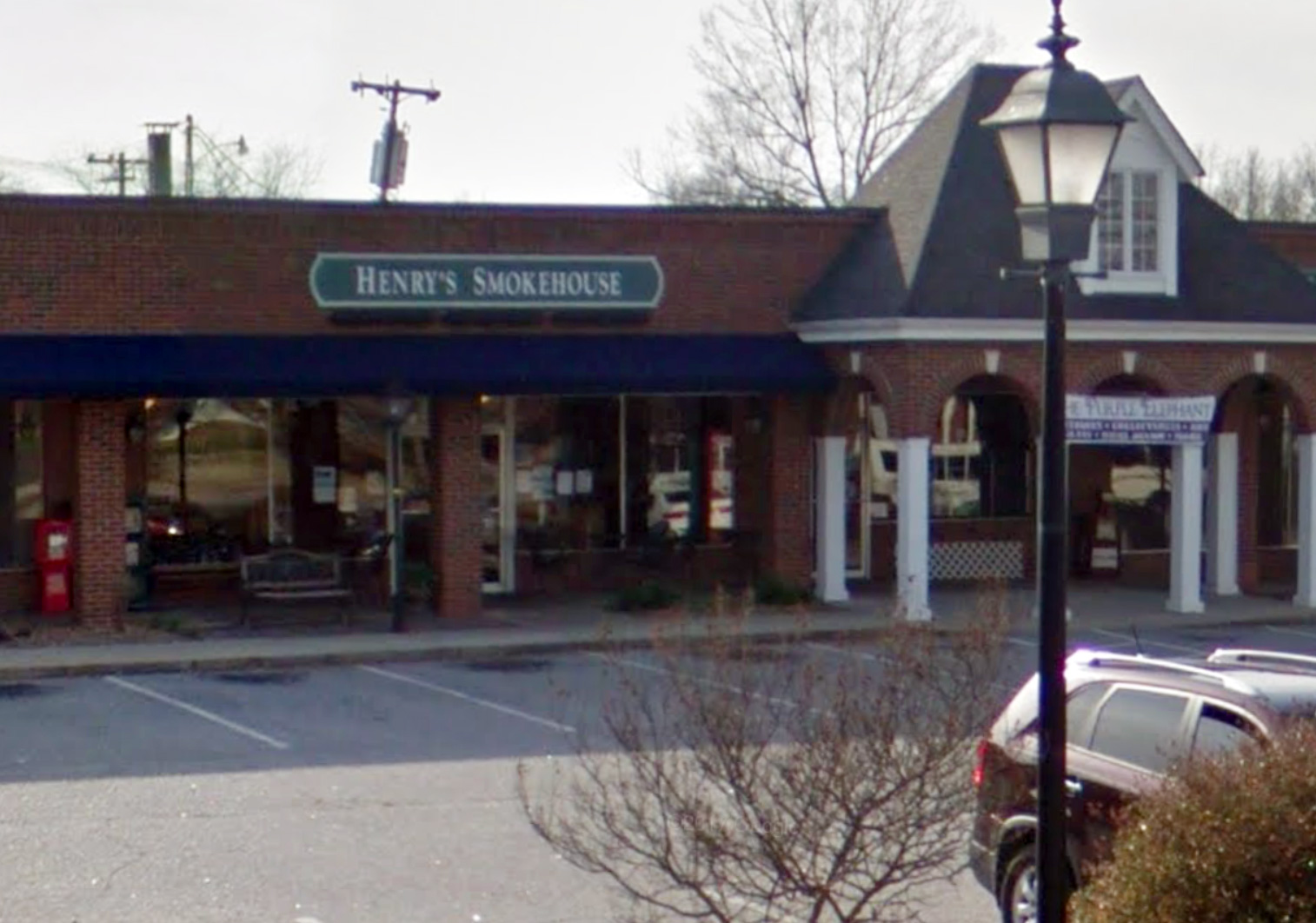 Map
Directions
Contact Henry's Smokehouse in Simpsonville
123 N. Main Street
Simpsonville,
SC
29681
Hours of Operation
| | |
| --- | --- |
| Monday | |
| Tuesday | |
| Wednesday | |
| Thursday | |
| Friday | |
| Saturday | |
| Sunday | |
Review Sites
Features
100 Mile BBQ, Cards and Cash, Hash, Light Tomato Sauce, Mustard Sauce, True 'Cue Certified