Dukes Barbecue on James Island
Dukes Barbecue: Leaning on History
This post may contain links from which I earn a commission. Please read my disclosure policy. As an Amazon affiliate, I earn from qualifying purchases.
Dukes Barbecue is one of the great family names of SC BBQ.
While there are a lot of Dukes restaurants found around the Lowcountry, Dukes did not evolve into a chain restaurant, despite what many people seem to think.
Generally connected by family ties, each location operates as a separate and unique restaurant.
In fact, various Dukes restaurants litter the area: Orangeburg, Walterboro, Allendale, Beaufort, Ridgeville, St. George, Blackville, Bamberg, Aiken, and North Charleston.
Dukes Barbecue on Folly Road on James Island is the latest.
Bryan O'Quinn, whose parents own the Dukes in Walterboro, opened this location. He and his folks are not of the Dukes family but are one of few who have paid their way into the Dukes empire.
They learned the Dukes signature style and recipes when they bought the Walterboro Dukes. It's the adherence to those teachings that earned Dukes BBQ on Folly Road a spot on our feature entitled "BBQ in Charleston, SC: The Definitive Guide."
The Charleston City Paper in this article by Robert Moss sheds some light on Dukes history, going back to the original Earl Dukes of Orangeburg.
The Dukes Barbecue Experience
Here, you will not find things like beef brisket or smoked chicken wings or any of that foreign BBQ.
Like all Dukes Barbecue restaurants what you get is classic SC BBQ from the mustard-based BBQ tradition.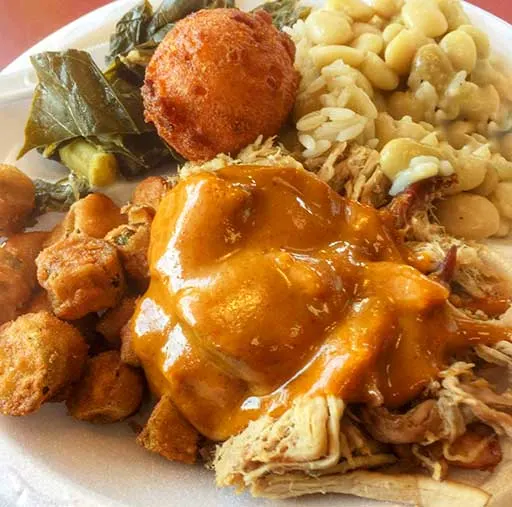 Dukes' all-you-can-eat buffet has chopped pork, hash and rice, fried chicken, mac 'n cheese, fried okra, collard greens, pork rinds, and a number of other vegetables and fried foods.
And leave room for their banana pudding as it will not disappoint.
A bare-bones experience, just like Dukes Barbecues is supposed to be: plastic utensils and styrofoam plates with a big bag of white bread on each table.
Dukes is also famous for spawning the "Orangeburg Sweet" or "Rust Gravy" mustard-based BBQ sauce.
Dukes BBQ sauce is really a mixture containing mayo, mustard, and ketchup, according to a source we spoke with at Antley's in Orangeburg.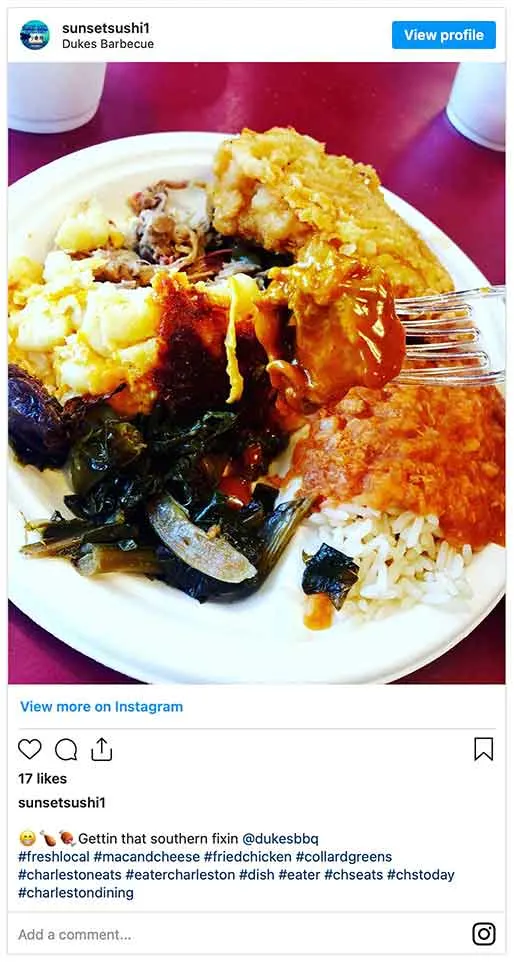 What Folks are Saying
Google Review
Local Guide Steven Giese was clearly impressed with his visit to Dukes Barbecue and it shows in his Google review:
"One of the BEST Barbeque buffet/Comfort food experiences of my life. The staff was wonderful and polite.
"And it seemed very important to the staff that my visit was a good visit. Very modest price for the quality of food available.
"From Pulled Pork, Fried Chicken and best Potato Salad and Cold Slaw in the south, down to the fried Chicken Gizzards, Fried Okra, and fresh-made Banana Pudding.
"YES, I suffered from trying ALL the great food in a TRULY down-home dining experience.
This was a remarkable find that could be featured on ANY Television food show featuring Unique hidden dining experiences.
"And the Price was the BEST part! This is a HIGHLY RECOMMEND Barbeque Buffet food experience!"
Yelp Review
On Yelp, Brandon H. enjoyed the food of the Gods at Dukes Barbecue:
Part of the legendary Dukes Family of restaurants that span most of the state, this BBQ joint is good.
Solid Mac and Cheese, great fried okra, and a variety of sides that exceed even my expectations.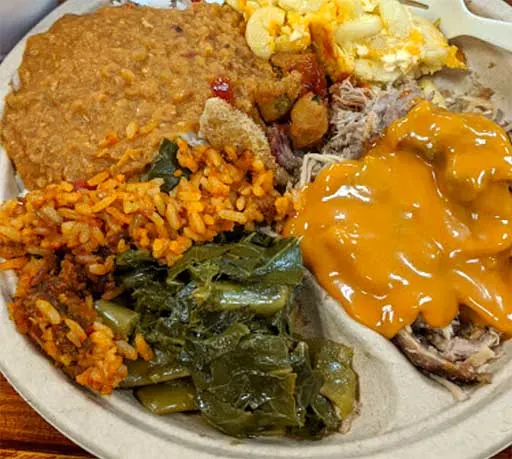 Let's talk mac and cheese. This may be the best I've ever had. Like ever.
Like I'm sorry mom, but your stuff isn't as good as this good.
Cheesy and creamy. There were times that I wasn't sure I was eating. Maybe I had ascended Mount Olympus and was consuming the food of gods. Maybe not.
"This was just what they sent down to us. I would go back just for that mac and cheese alone.
"The BBQ was good. Fresh and flavourful. Very moist.
Not a ton of smoke in it, but still enough to be good pulled pork.
"I smothered mine in a couple of different sauces. The mild was a tad sweeter than I expected it to be, so I had to dial back a bit to keep it from overpowering.
"The other sauces were good, but clearly an afterthought to their signature sauce.
This is a new go-to spot. Plenty of good buffet BBQ goodness."
Clearly, Dukes Barbecue is a classic SC BBQ experience offering an amazing buffet. Stop by today!
---
Menu for Dukes Barbecue on James Island
Note: Menu prices and options are subject to change over time. Contact the restaurant for the most up-to-date information.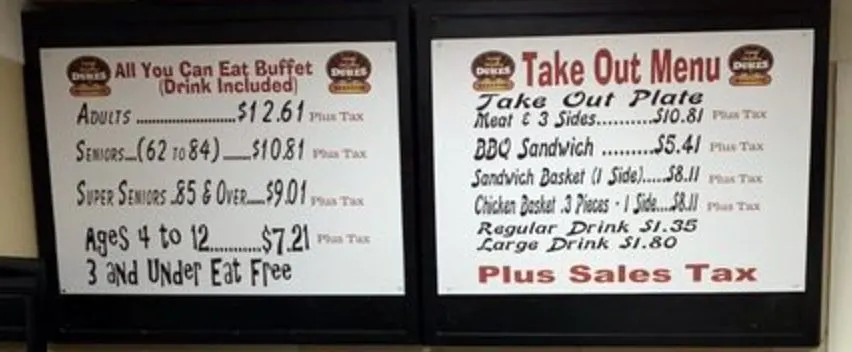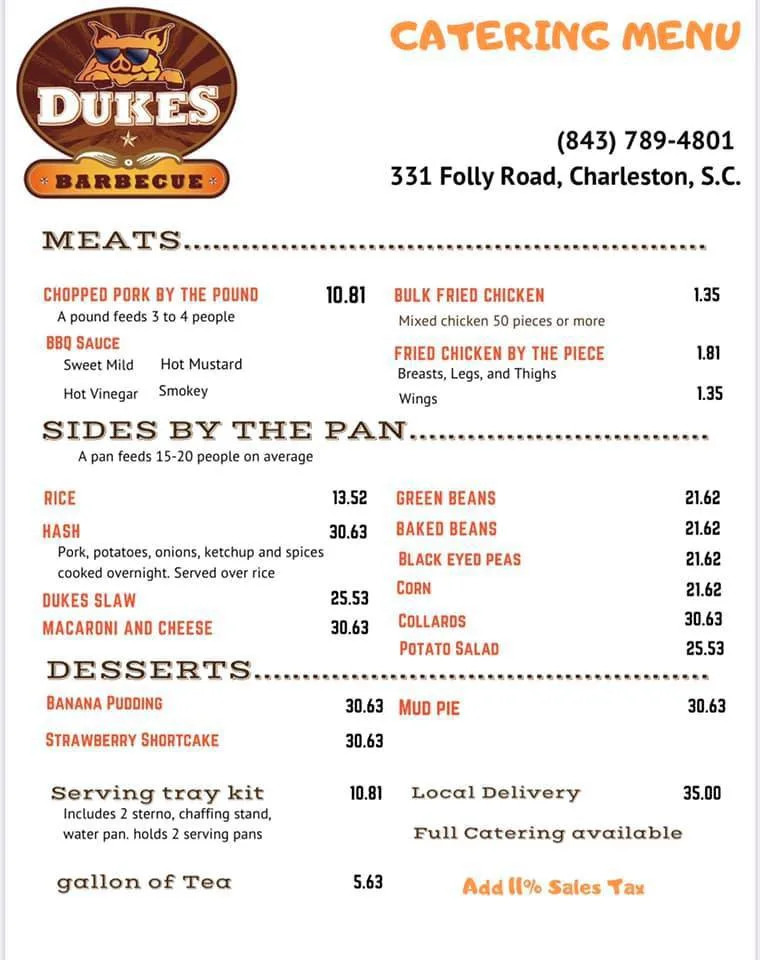 Location, Hours, Contact Info, and More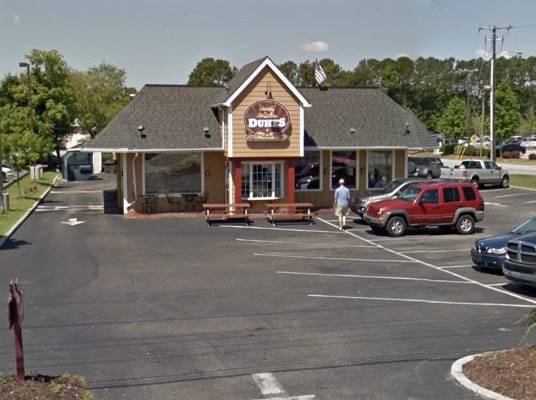 Map
Directions
Contact Dukes Barbecue on James Island
331 Folly Road
Charleston,
SC
29412
Hours of Operation
| | |
| --- | --- |
| Monday | Closed |
| Tuesday | |
| Wednesday | |
| Thursday | |
| Friday | |
| Saturday | |
| Sunday | |
Social Media
Review Sites
Features
Buffet, Cards and Cash, Hash, Heavy Tomato Sauce, Light Tomato Sauce, Mustard Sauce, Vinegar Pepper Sauce