Dukes Barbecue in Walterboro
This post may contain links from which I earn a commission. Please read my disclosure policy. As an Amazon affiliate, I earn from qualifying purchases.
Dukes is one of the great family names in SC BBQ history.
There are a number of Dukes restaurants spread throughout the South Carolina Lowcountry. Dukes Barbecue in Walterboro, however, is not a franchise or a chain.
Whether in Walterboro or elsewhere, all of these restaurants are loosely tied by family connections, but each stands on its own and is different from the others.
The Charleston City Paper shed some light on this family BBQ business and its history, starting with Earl Dukes beginning the dynasty in Orangeburg.
Dukes is famous for creating the "Orangeburg Sweet" mustard-based BBQ sauce that some refer to as "Rust Gravy." Their sauce is actually a mixture of mayo, mustard, and ketchup, according to a source we spoke with at Antley's in Orangeburg.
---
What Folks are Saying about Dukes
Google Review
Among the many Google Reviews, Local Guide Laura M. Swanson enjoyed Dukes in Walterboro so much she wrote a bit of a novel about her experience. Here is an excerpt:
Throttle Down MC Group had a motorcycle lunch ride to Dukes BBQ in Walterboro and We absolutely loved it!!!
There was plenty of spacious parking when we arrived, but the local churches were letting out and soon the restaurant was filled with patrons.
I was told that the food here was great and true to form, Dukes BBQ didn't disappoint. This was Southern Comfort Food at its best!
Home-cooked no-frills, no foo-foo-lah, just stick to your ribs eats. I chose the savory onion hash poured generously over white rice, collard greens with smoked turkey neckbones, fried okra, pulled pork with hot mustard vinegar BBQ sauce, and crispy golden fried chicken, and a scoop of the smoked sausage rice.
Our friends were raving over the hush puppies, onion rings, sliced beets, and coleslaw (I was too afraid the main items were not going to fit on my plate, so I didn't get any) Everything was well seasoned and well cooked.
The wait staff was friendly, polite, attentive, and kept a watchful eye on the food and supplies so no one is left there standing around waiting for utensils, cups, ice, etc. They also kept the buffet line clean of spills and waste.
I highly recommend this outstanding BBQ restaurant. I plan on returning in a car so I can bring home some take-out.
Yelp Review
Over on Yelp, Megan T. tried an assortment from the buffet and found some must-tries at Dukes Barbecue in Walterboro:
TLDR: Best bbq sauce on the planet! Buffet, carry out or drive-thru offered. Corn fritters and fried okra are a must-try!
While on a road trip we passed a sign for Dukes BBQ, and we're already thinking about lunch.
Well, rather than eating fast food, it seemed like a way better option to try this local BBQ joint, and man are we glad we did!
The GPS tried to make us turn the wrong way but, the signs are easy to follow.
We had no clue it was a buffet, but what a great way to try a taste of each yummy treat! The corn fritters, fried okra, hush puppies, fried chicken, and pulled pork were second to none!
Best mustardy bbq sauce ever! Wanted to put it on everything! I am usually an unsweet tea drinker but after trying my husband's sweet tea I had to have a cup of my own!
Plenty of parking and table seating inside. Bathrooms were clean and service was pleasant. Kids under 3 are free!
Read our Review of Dukes of Walterboro
Menu for Dukes Barbecue in Walterboro
Note: Menu prices and options are subject to change over time. Contact the restaurant for the most up-to-date information.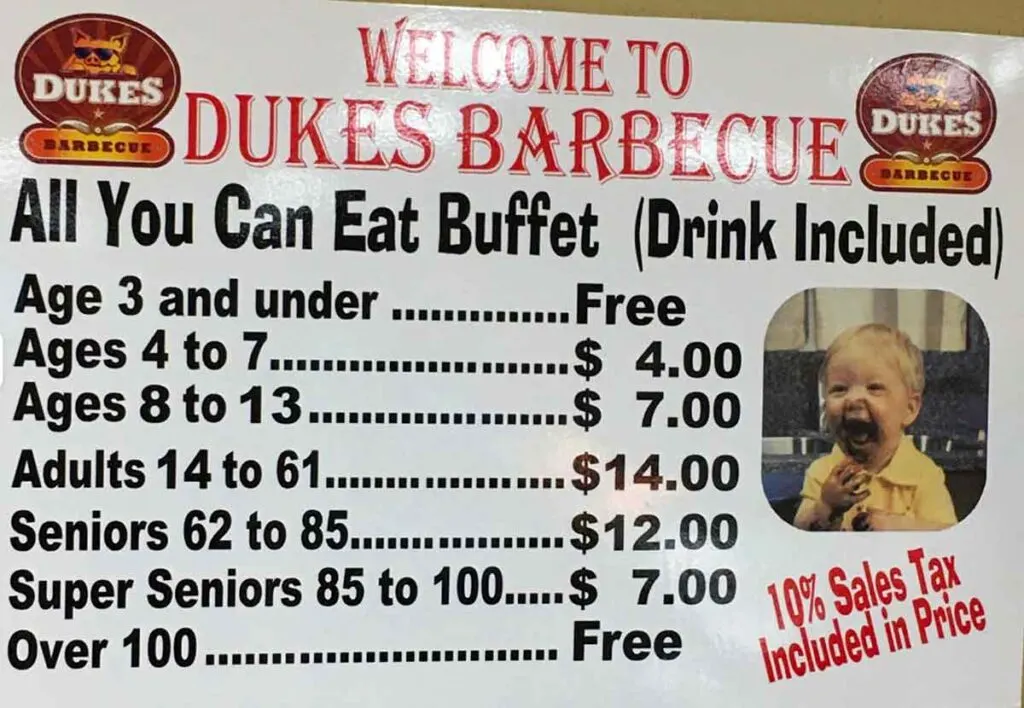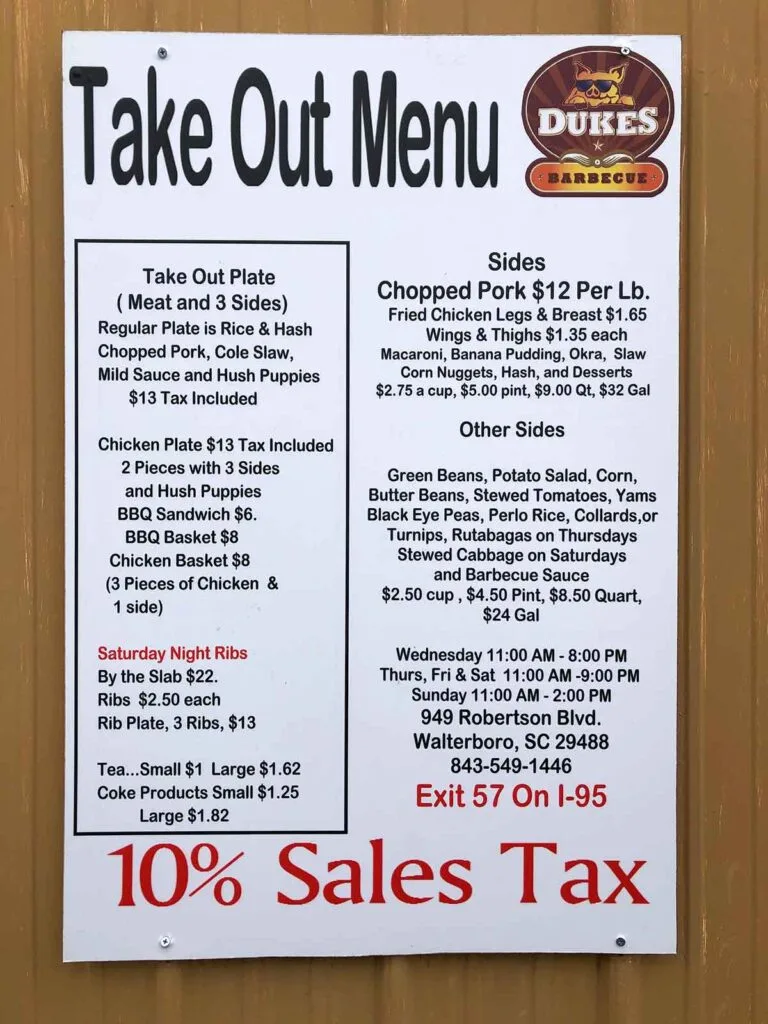 Location, Hours, Contact Info, and More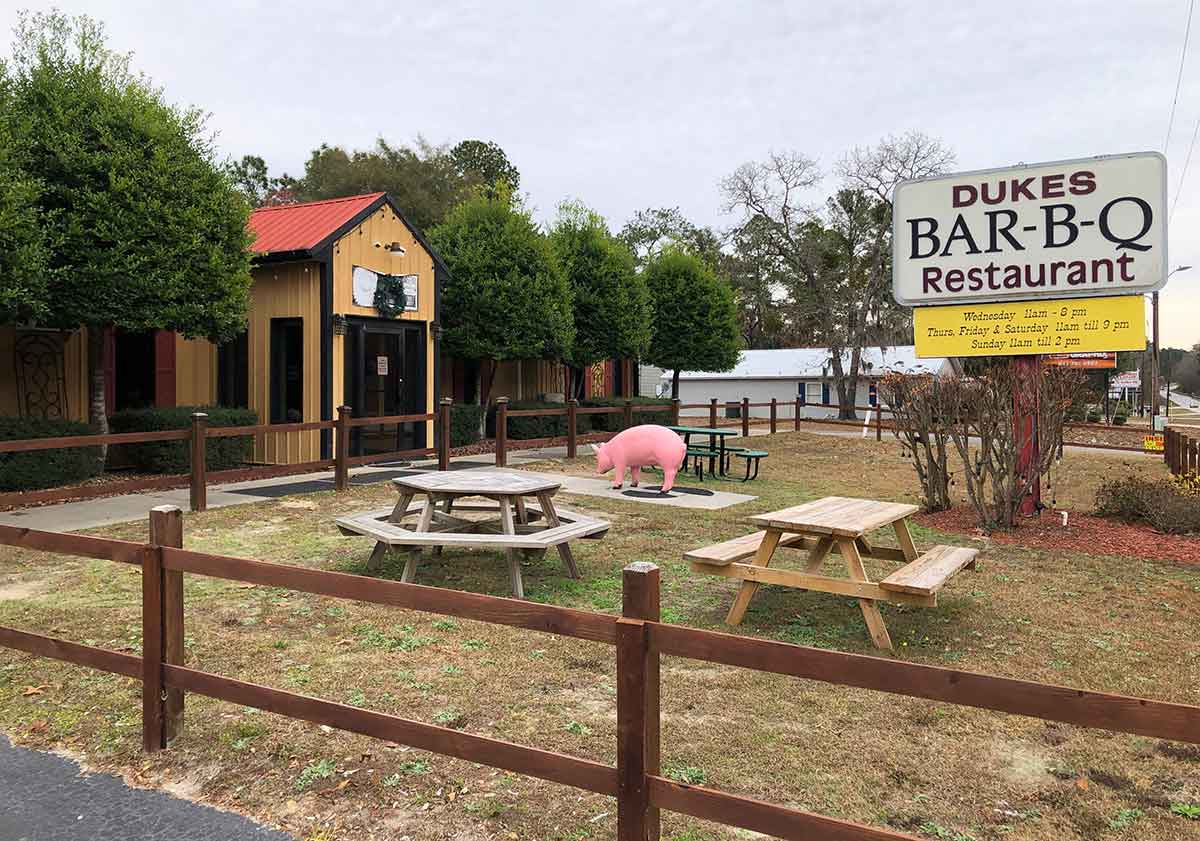 Map
Directions
Contact Dukes Barbecue in Walterboro
949 Robertson Blvd.
Walterboro,
SC
29488
Hours of Operation
| | |
| --- | --- |
| Monday | Closed |
| Tuesday | Closed |
| Wednesday | |
| Thursday | |
| Friday | |
| Saturday | |
| Sunday | |
Social Media
Review Sites
Features
Buffet, Cards and Cash, Hash, Heavy Tomato Sauce, Light Tomato Sauce, Mustard Sauce, Vinegar Pepper Sauce