The Pot Smoker BBQ in Aiken
This post may contain affiliate links to Amazon or other vendors I trust. Please read my disclosure policy. As an Amazon affiliate, I earn from qualifying purchases.
The Pot Smoker BBQ: "You can smell our butts a mile away"
When I started developing BBQ 14 years ago with a ceramic smoker — before the Green Egg became so popular — I would explain to friends that it was cooked in a ceramic smoker similar to a ceramic POT.
So, I guess you could call it POT SMOKED which makes me THE POT SMOKER.
At The Pot Smoker BBQ, we smoke our Boston butts 10-12 hours over a mix of hickory and other exotic wood. I have spent 14 years developing what I consider to be one of the most palette-pleasing rubs on the market.
People who have tried the pulled pork rave about the fact that it is moist, full of flavor, and does not need sauce. But, if you'd like sauce, we offer a ketchup-based sweet sauce, a mustard sauce, and a hot BBQ sauce.
Among other things, The Pot Smoker BBQ serves:
Pulled pork (we use a dry rub on our pulled pork)
Ribs
Smoked chicken
Brisket
Crispy smoked chicken wings
Smoked chicken salad
Find us just 12 miles off of Interstate 20 at Exit 22. Come see us.
Our core beliefs: faith, family, friends & food.
What Folks Are Saying
Google Review
Among the many Google Reviews, Local Guide Akosua Adampo was impressed on will be the first of many visits to come:
This was my 1st time here (was actually looking for another restaurant but my GPS brought me here.
THE SMOKED CHICKEN WAS SO TENDER AND GOOD! I don't even eat thighs but the way they cooked their meat was so good that I ate everything in one setting!
The Mac and cheese was different, never had it like that before but however they make it, they made a good 1st impression.
The green beans were seasoned to perfection, just like the chicken was.
I would DEFINITELY recommend this place to any and everyone! This place has 2 new customers with 2 possibles when we bring our children back to taste the food!
Also wanna thank the staff for being so polite and knowing how to treat new customers because some companies have a bad lack in the customer service department!
Yelp Review
Over on Yelp, Aiken native Matthew H offers a review and a suggestion for The Pot Smoker:
All I can say is wow. I have had BBQ in many places and different states. I always go for the brisket when available.
The brisket from here is amazing. I had the brisket sandwich with greens and Mac & Cheese. Everything was top-notch.
One suggestion I would make based on some bbq spots I have had brisket sandwiches is they should give an option to add cole slaw on the sandwich. That def takes it to the next level.
Anyhow we will continue to fulfill our need for BBQ here. Thank you for the great food Pot Smoker!
Menu for The Pot Smoker BBQ in Aiken
Note: Menu prices and options are subject to change over time. Contact the restaurant for the most up-to-date information.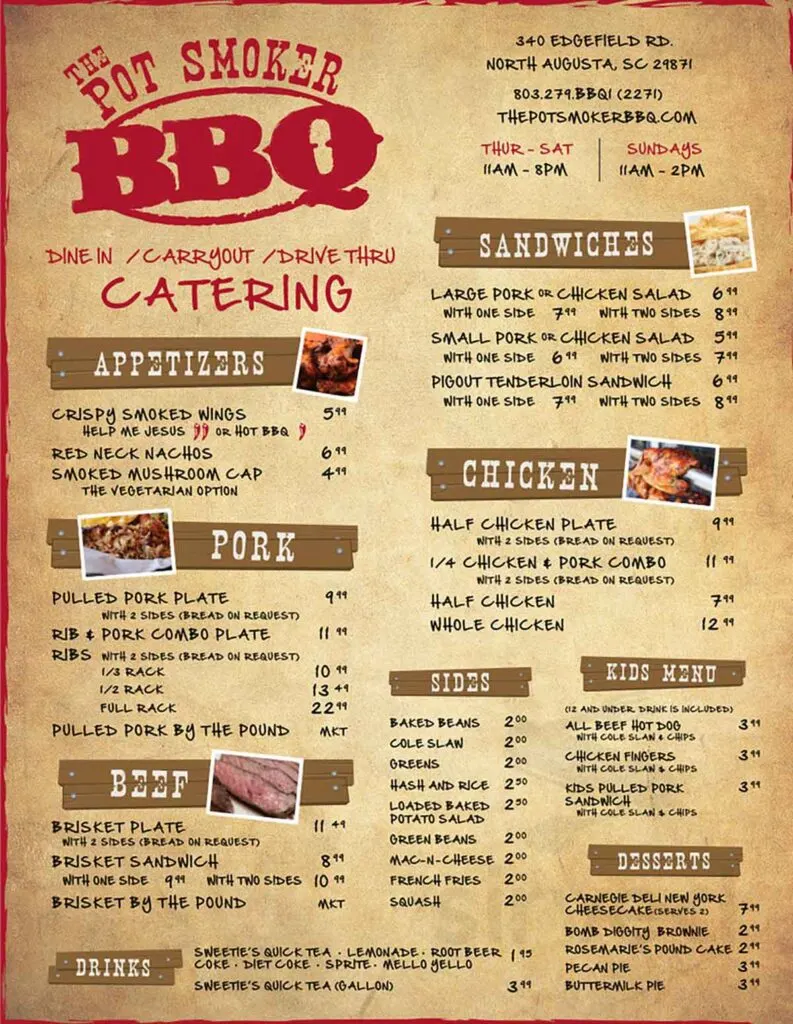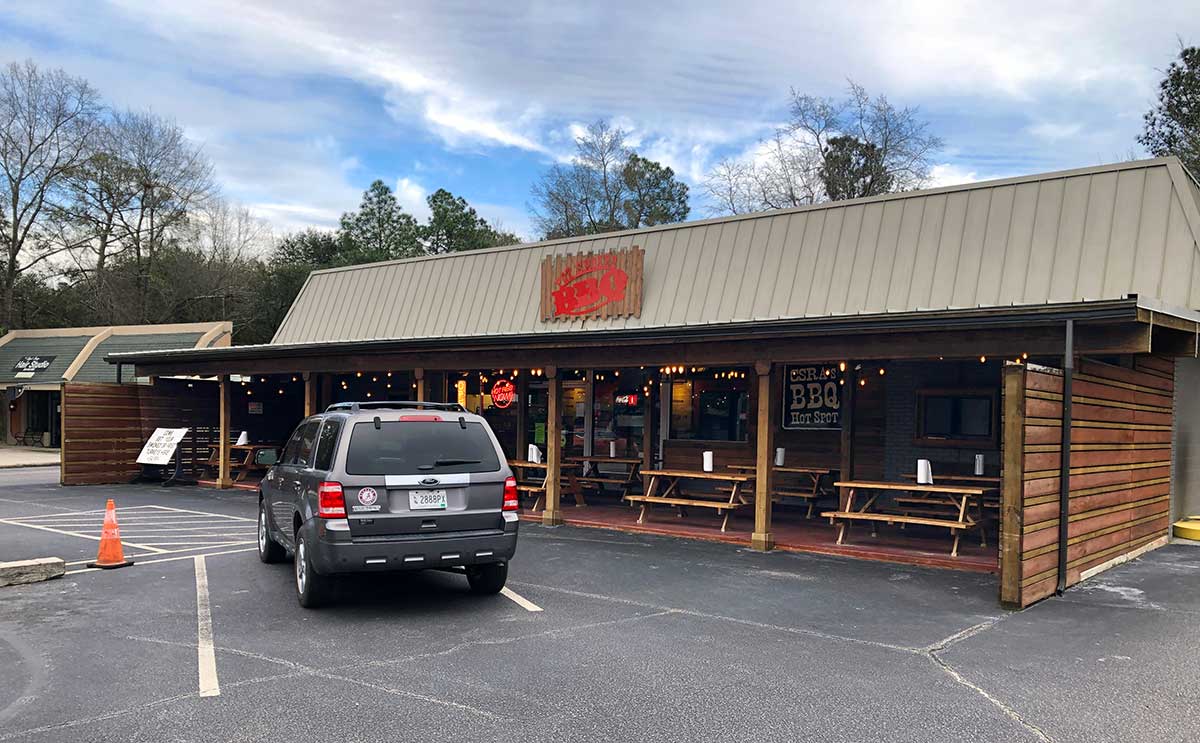 The Pot Smoker BBQ in Aiken
651 Silverbluff Rd
Aiken,
SC
29803
| | |
| --- | --- |
| Monday | Closed |
| Tuesday | |
| Wednesday | |
| Thursday | |
| Friday | |
| Saturday | |
| Sunday | |
Social Media
Review Sites
Features
Cards and Cash, Hash, Heavy Tomato Sauce, Mustard Sauce