What is Queology?
We know our barbecue so well we invented a new word for it: Queology, the study of meat cooked low and slow until it falls off the bone and melts in your mouth.
Our pitmasters Russ and Matt use a time-tested secret blend of herbs and spices to season their pork and chicken, honed to perfection over the last twenty-five years serving satisfied diners from all over the world.
"My wife and I went to a BBQ event out at Brittlebank Park in 2000, and I was addicted almost immediately," said Russ Cornette.
"So this idea started officially as a hobby in 2001. There were a lot of late nights testing and practicing and honing the recipes.
"To do it right, you need to do it over and over again the same way. It's all in the details."
They're regulars on the barbecue competition circuit and have won countless awards for their pulled pork, chicken wings, and all-American sides that are sure to please. It is that quality that you'll enjoy at Queology.
New Uber Eats Accounts
GET $20 OFF
From This or Many Other Restaurants
FROM DESTINATION BBQ
On Your First Order of $25 or More
As for the sauces, whether you prefer Kansas City-style sauce, the sweetness that makes Memphis famous, or local favorite Orangeburg mustard, Queology offers a style you're sure to love.
"Yeah, the chicken wings are my favorite thing here," Russ confessed. "They're hickory-smoked using real wood. Nice and simple, just as it should be.
"I created the BBQ sauces here and the rub for the BBQ, so I think it all goes really well together."
With a full bar stocked with ice-cold local beers, Queology is a great place to enjoy lunch, watch the game, or take a break from an afternoon on the Market.
Come down to 6 North Market Street and let us serve you the best barbecue in the Lowcountry.
What Folks are Saying about Queology
Google Review
Google's Local Guide William Plut had the following to say about Queology in his Google Review:
The wife and I enjoyed dinner here late. There was a two-man live band. It had a sports bar/cabin feel to it. Typical foods for BBQ.
I had the dry rub wings with corn and mac & cheese as my side while my wife enjoyed the pulled pork.
The wings were amazing, with a juice center and crisp skin. They put any large chain restaurant to shame. They almost had a bacon flavor to them. Smoked first and then flash-fried to keep the juice flavor in.
The pulled pork was good and packed with meat. It was a more traditional style, unlike the small shredded sauce-covered sandwich you get a lot.
This was a chunk of meat that was falling apart and shredding on the sandwich.
The mac & cheese at Queology was good nothing to brag about. Corn basic.
The only negative I will say about the place was the two drinks we had. They tasted amazing so it wasn't a big deal.
My wife ordered some kind of blue drink with whip cream in it. Now taste was amazing I probably could have had like 5 of them.
I had the Arnold Palmer. Now like I said they tasted great. But they cost $8 a pop. Which hey I still paid it and they were worth it.
Yelp Review
Over on Yelp, Charleston-area local Cathleen T loves Queology's new location at 6 North Market St. (very near their old location).
The new location is so great!
While very different from the old Market St venue, the new venue is beautiful with a friendly and eclectic staff and the menu choices with the Queology and the Tabbuli offerings combined, are AMAZING!
You can tell they use fresh, quality products in all that they do and have perfected the art of smoking pork, chicken, ribs, and wings. The pride in workmanship is apparent from the presentation to the flavor to the sauces!
Again, love the fact that Queology has combined with Tabbuli! I have had A LOT of fun and GREAT FOOD at Tabbuli too, so combined just multiplies my love!
---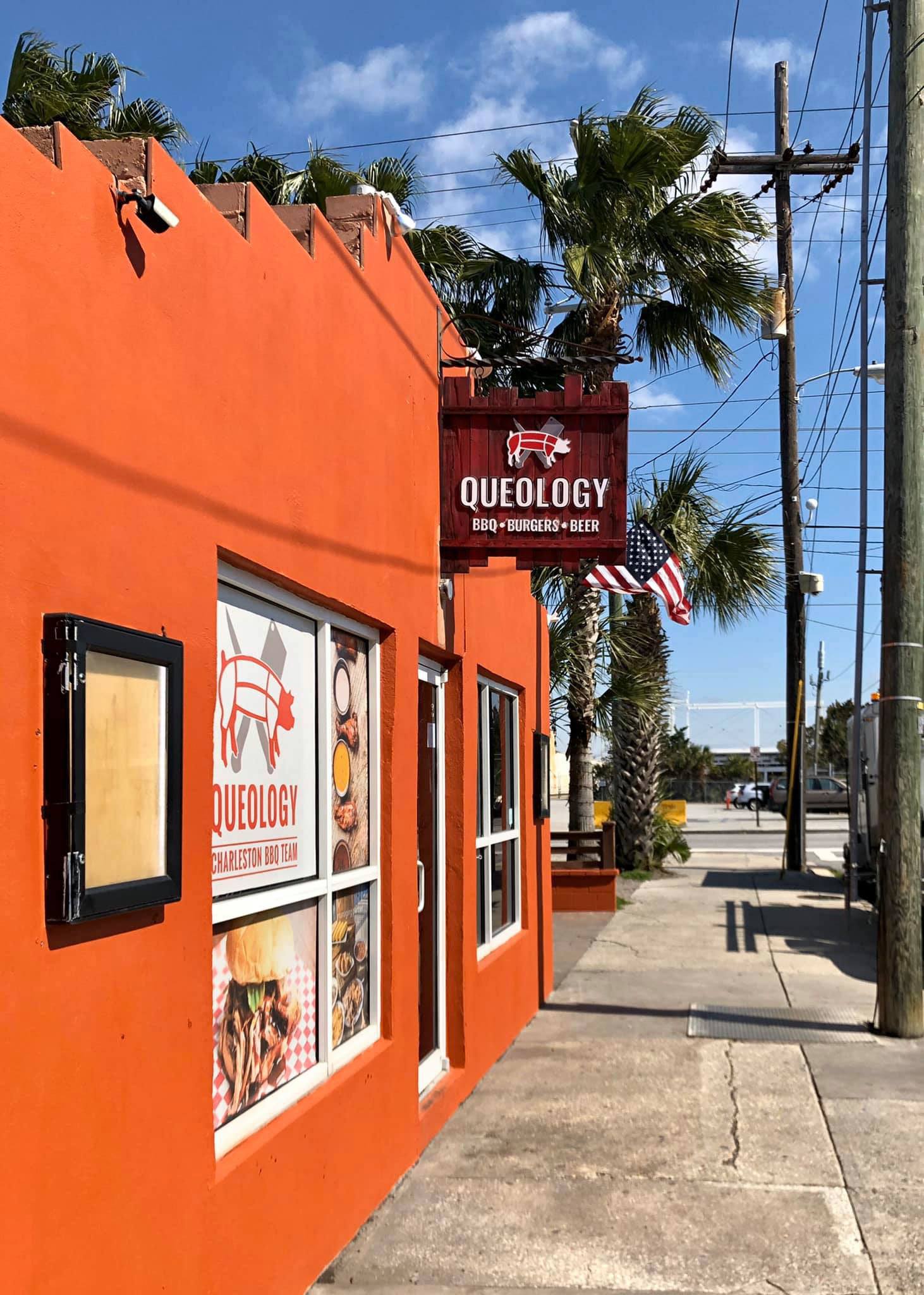 Queology
6 North Market Street
Charleston,
SC
29401
| | |
| --- | --- |
| Monday | |
| Tuesday | |
| Wednesday | |
| Thursday | |
| Friday | |
| Saturday | |
| Sunday | |
Review Sites
Features
Cards and Cash, Mustard Sauce, Light Tomato Sauce, Heavy Tomato Sauce