Smoky Dreams BBQ: Where Everyone is Family
This post may contain links from which I earn a commission. Please read my disclosure policy. As an Amazon affiliate, I earn from qualifying purchases.
If you dream of barbecue, Smoky Dreams BBQ is worth getting to bed early for. Their barbecue is indeed the stuff of dreams, but they are giving their competitors nightmares.
The Restaurant
The Smoky Dreams BBQ restaurant awaits your visit at the corner of Highway 14 and Woodruff Rd. It is a charming little building that sits at the front of the Big Lots parking lot in the nearby shadow of a McDonald's.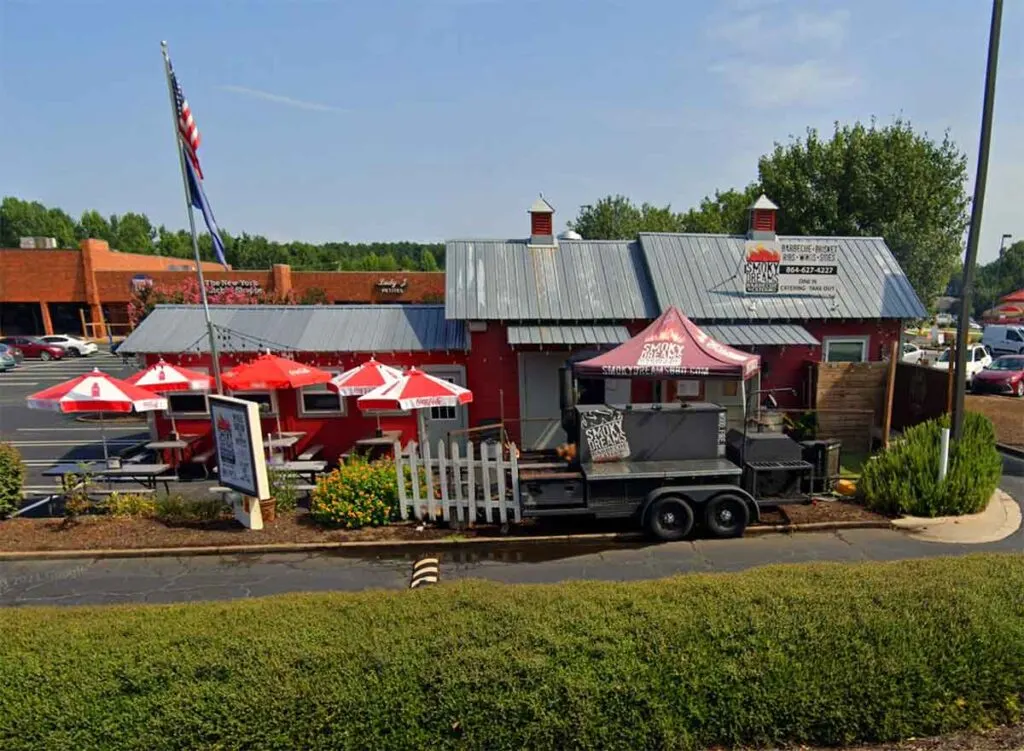 A bright red exterior that elicits a nostalgia of old-school barbecue, but offers modern conveniences such as a drive-through. In addition, they provide a delightful indoor seating area, comfortably air-conditioned.
Be forewarned: make sure you don't plan your visit on a Sunday, Monday, or Tuesday, or you'll be greeted by closed doors. The rest of the week, however, the folks at Smoky Dreams BBQ eagerly await your arrival.
"Where Everyone is Family" sounds like a simple catchphrase, but here the words form the foundation of their business. The Brink family all play a role.
Originally started by Chris and his mother Nancy, they soon welcomed Chris' brother Tim and their father Howard in joining them running the restaurant.
With that family foundation, the Brinks prepare their barbecue with the same love and devotion as if they were cooking for family. That extends to the service the customer receives also. Simple touches like providing lollipops for kids or dog treats for their customers' pets are just a couple of the ways they treat customers like family.
That level of care and devotion stands out as some of the reasons that Smoky Dreams has been recognized on a national level several times.
On the Menu
Deciding what to get may be the hardest part of a visit to Smoky Dreams BBQ.
Without question, the meats that they smoke daily on-site stand out. Pick from pulled pork, ribs, brisket, and smoked chicken. They season them all with a dry rub and serve it with your choice of four different house-made barbecue sauces.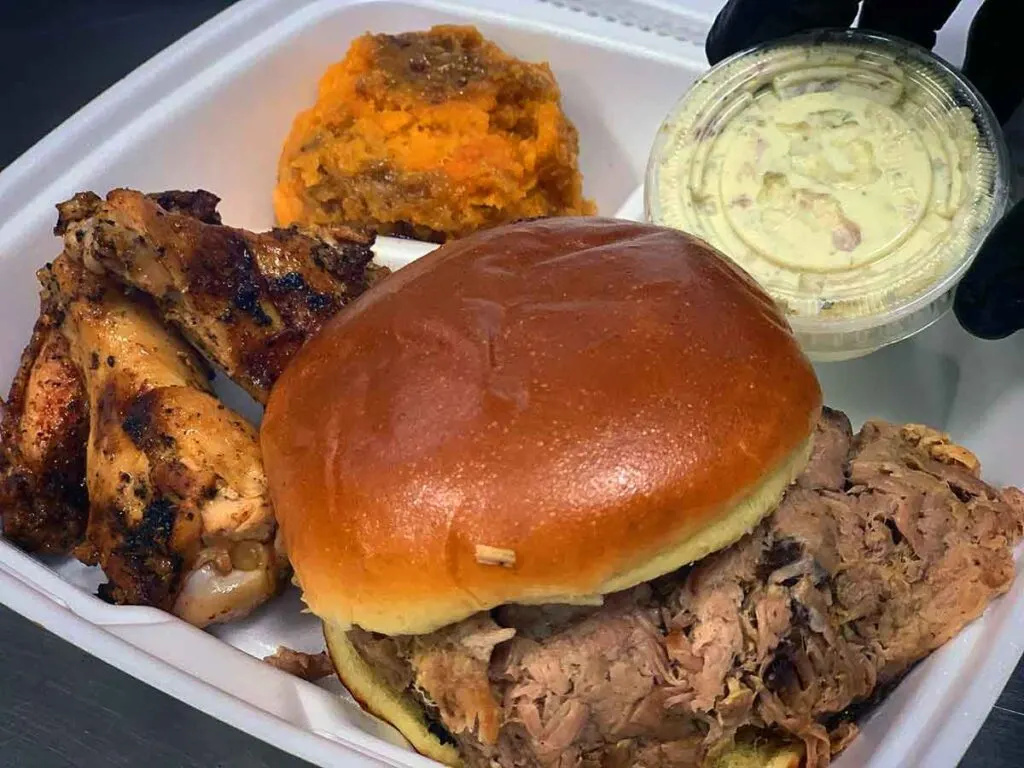 The term "finger-lickin' good" definitely applies here.
The pulled pork and chicken are succulent. The ribs and brisket are perfect. The meat is moist and the seasoning is spot on. You will not need to use the barbecue sauce, but even that is delicious.
The Brinks offer tasty sides, and that poses a problem. Just what do you choose?
Their mac & cheese is creamy. The sweet potato crunch offers the perfect balance without being too sweet. They mix chopped pork into their baked beans providing a meaty and smoky bite.
The potato salad may be the best you'll ever try in a restaurant, and the coleslaw is a mayo-free version that goes so well with the meat selections. Finally, the green beans are tender and smoky.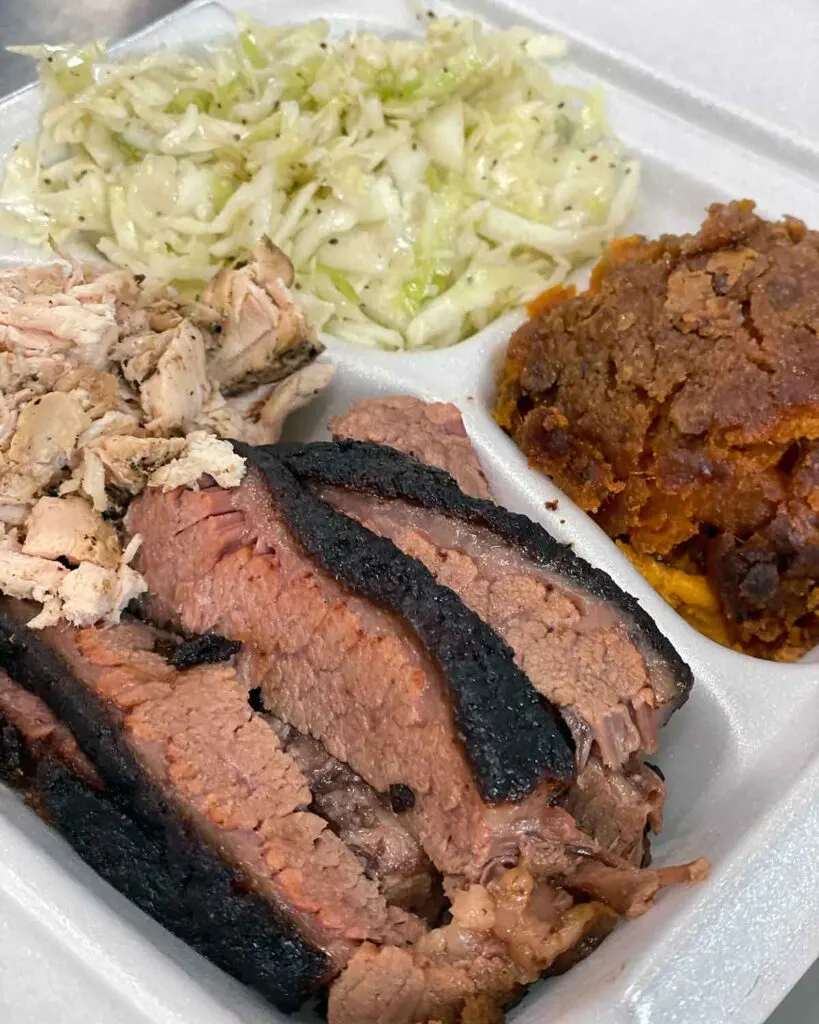 Everything you'll try here you're sure to enjoy. The food is delicious and the service is excellent. But then would you expect any less when visiting "family?"
Fortunately, Smoky Dreams BBQ makes it easy to visit. They sit very near the intersection of I-85 and 385. If you're 85 on a Road Trip looking for some great SC BBQ, or just happen to be in the area, swing on by Smoky Dreams.
Enjoy this interview with owner Chris Brink:
What Folks are Saying about Smoky Dreams BBQ
Google Review
Google's Local Guide TB, author of over 60 Google Reviews, calls Smoky Dreams BBQ "6 stars of deliciousness":
My wife and I stopped in after visiting the Upcountry Museum. We were fortunate to talk to the owners Tim and Chris and enjoy their BBQ.
The baby back ribs were delicious. The brisket was also probably the best I had.
The sweet potato crunch was really good and the coleslaw was good also. It was non-mayo coleslaw so it might be slightly different than what you might expect but I liked it.
The peanut butter pie was delicious also. Best peanut butter pie I've had also.
I liked the food so much that I ordered some more after eating the pie and my first plate. We tried the wings and they were also great, but again my favorite was the ribs. The wings (and every meat) aren't sauced and you add what you like.
The mustard sauce was really good and so was I think it was called mild tomato. It was more sweet BBQ sauce tasting than tomato tasting so if you don't like tomatoes don't let the name fool you. All were good though.
This was by far the best food of our week-long trip and the service was great also. I'd rate it 6 stars of deliciousness.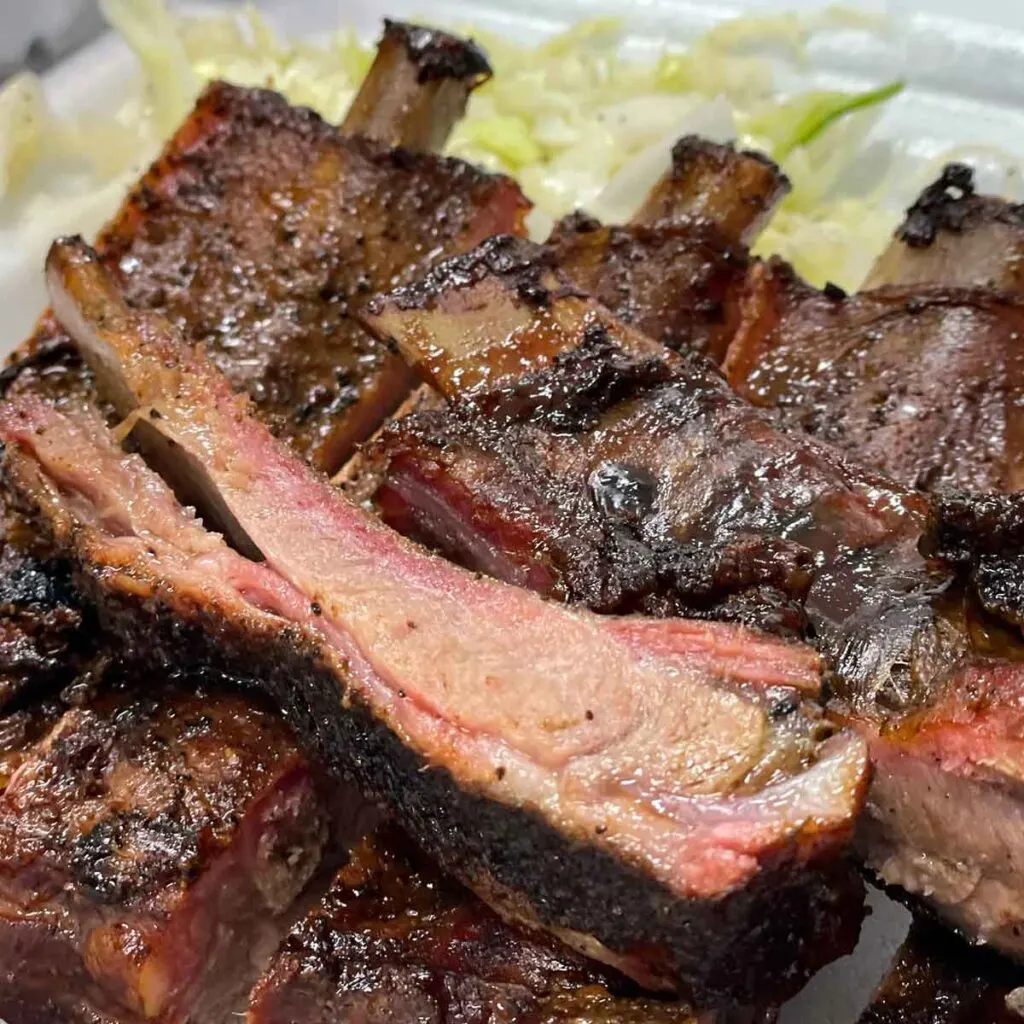 Yelp Review
Over on Yelp, Anton K found Smoky Dreams BBQ so amazing, he wrote a novel on his experience. We've included most of it below:
Listen. I decided to take a new way home today after a long day at the office. I ended up at the intersection of Woodruff and SR 14 when the wind gracefully took the succulent smell of Smoky Dreams and ravaged my nostrils.
Never has a smell made me immediately skrrr off the road and into the drive-thru.
Anywho, the line in the drive-thru was pretty long, so the guy came out and took orders remotely Chik-Fil-E style. When he got to my car, he was extremely welcoming with his hello.
I said "hey, it's my first time here" and then I asked the worst question someone in food services could ever hear: "what's your favorite thing?"
The Grub
Yo let me tell you, this guy knew his grub. He went into mouthwatering detail about the various options I was blessed with today. Some descriptions that stood out to me are as follows:
There's more that I can't think of anymore but this man went into mouthwatering detail on everything on the menu.
Mac n Cheese: "The Original recipe from the pitmasters grandmother. Deliciously creamy and rich. This ain't no kraft sh*t"
Potato Salad: "Extremely creamy and loaded. Imagine like a baked loaded potato but in potato salad form"
Baked Beans: "It's cooked in the outdoor grill for hours. They throw brisket bits in there for even more flavor. It's extremely Smokey and savory."
Brisket: "I personally prefer the brisket over the pig. Brisket is like the candy of meat. Like we give you sauce but honestly try it without the sauce."
Pig: "We're a BBQ place, of course, we're gonna have good pig. It's award-winning and it is delicious. Not much needs to be said to be honest. The sandwich is pretty dope"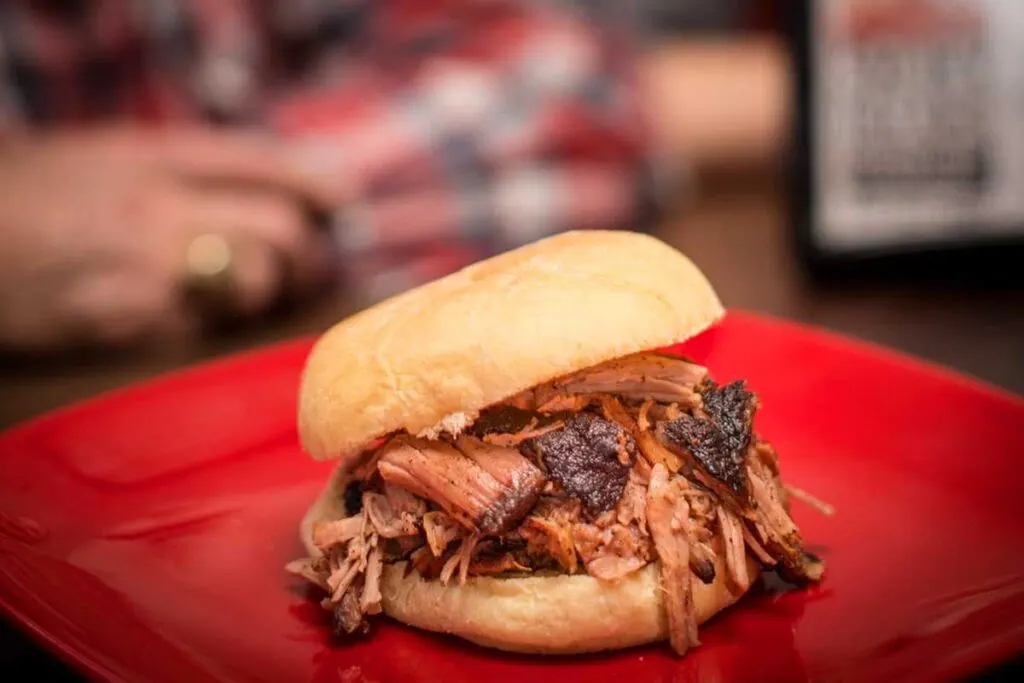 I ended up ordering the brisket with a side of potato salad and the baked beans, an Arnold Palmer, and the Alabama-style sweet sauce.
The Wait
Sitting in rush hour traffic with this poignant-smelling food was incredibly difficult, but as soon as I got home I attacked my food.
The brisket was absolute perfection. Smokey, but not like your Aunt Cheryl's 2005 Toyota Corolla. No, this was the type of Smokey-like showering the day after a bonfire smoke.
This is the smoke one dreams about. Smoky Dreams.
You know when you fall asleep as a passenger in a car and the driver is getting close to home and you start to recognize all the turns even though you're not looking? That feeling of homely familiarity is exactly what hit me when I tried the potato salad.
Except, instead of my home, it was my rich friend's home, which was just better in every capacity.
The extra brisket pieces in the baked beans were a better surprise than last November when we found three (3!) hard-boiled Easter Eggs in the basement from April. That was a way less scrumptious surprise than the extra brisket was. Believe me.
The beans were perfectly cooked and deliciously … Smoky.
Overall, my only complaint is coming from my wallet, as it knows I'll be coming back to Smoky Dreams BBQ to treat myself with happiness more in the coming weeks.
---
Menu for Smoky Dreams
Note: Menu prices and options are subject to change over time. Contact the restaurant for the most up-to-date information.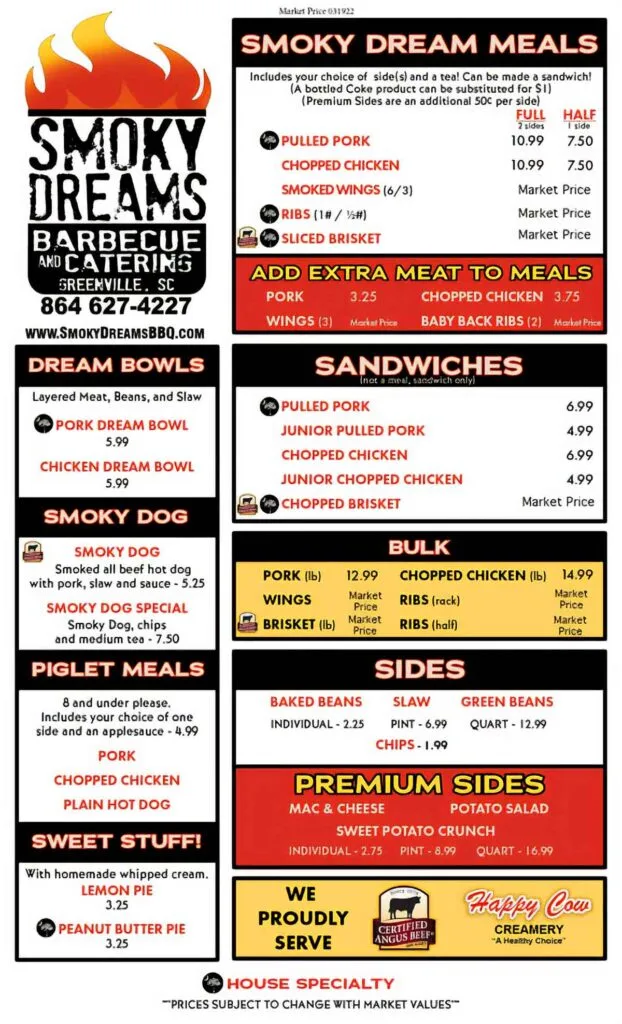 Location, Hours, Contact Info, and More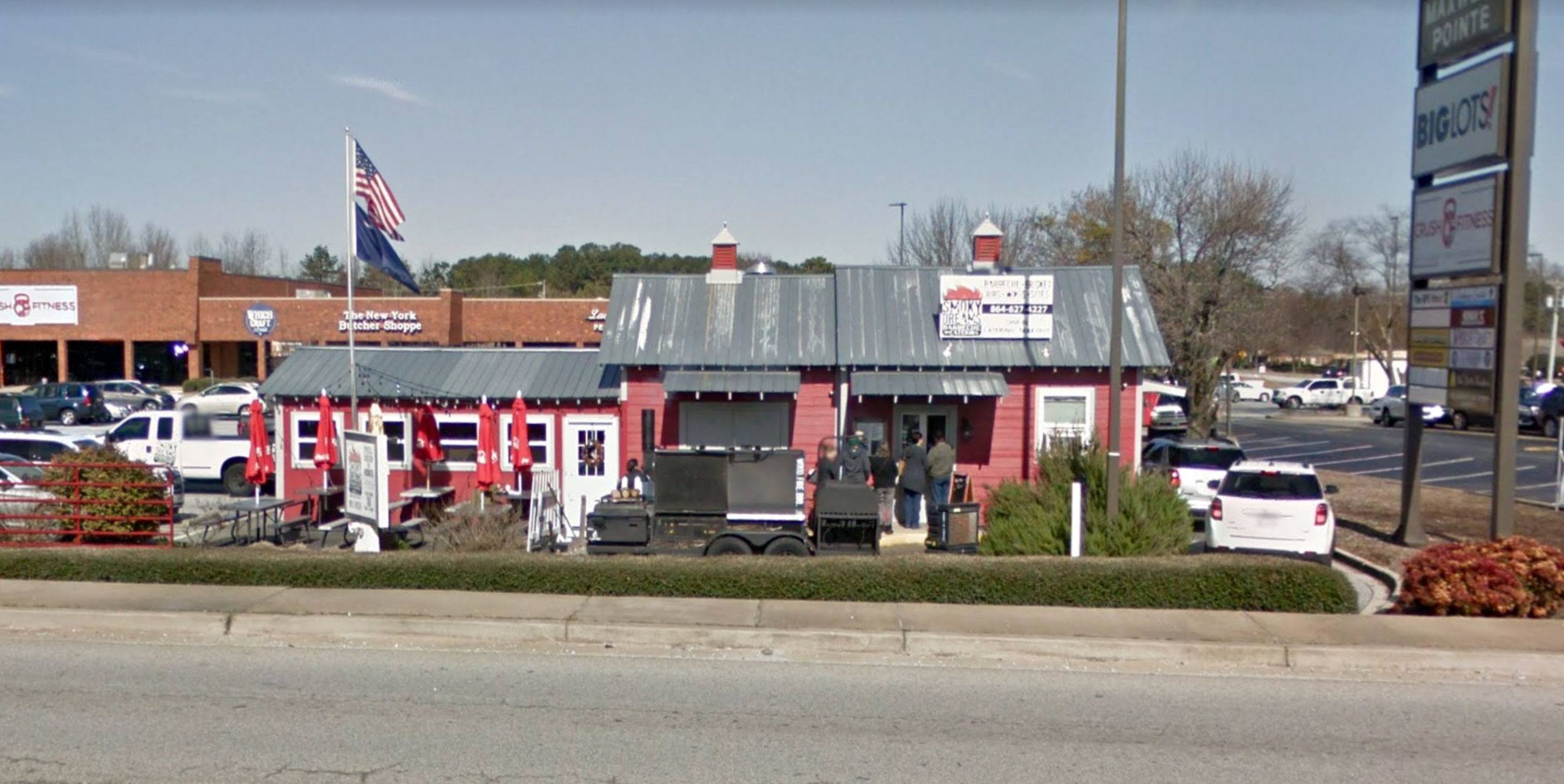 Map
Directions
Contact Smoky Dreams BBQ
2131 Woodruff Road
Greenville,
SC
29607
Hours of Operation
| | |
| --- | --- |
| Monday | Closed |
| Tuesday | Closed |
| Wednesday | |
| Thursday | |
| Friday | |
| Saturday | |
| Sunday | Closed |
Review Sites
Features
Cards and Cash, Heavy Tomato Sauce, Light Tomato Sauce, Mustard Sauce, Vinegar Pepper Sauce, White Sauce