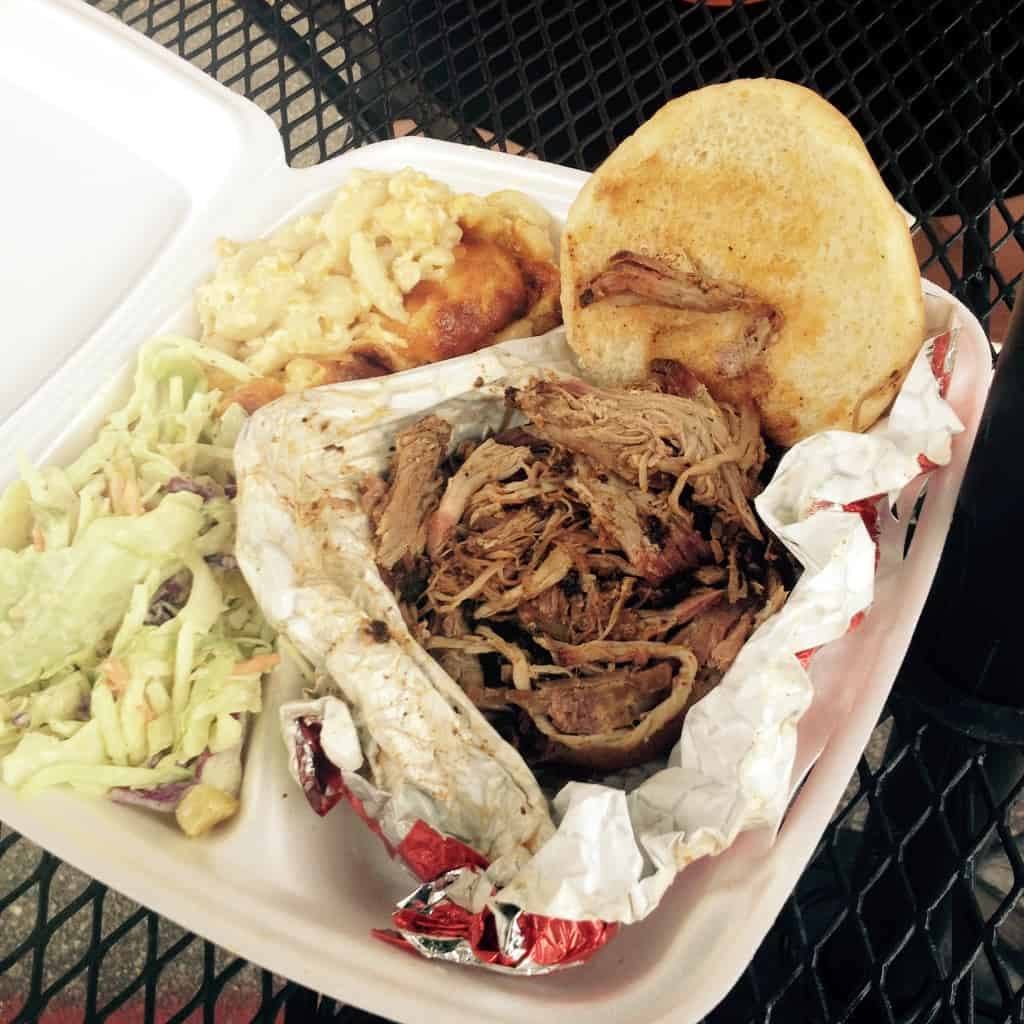 Note: Food for the Southern Soul has closed its "Cue-osk" in the Charleston market and as far as we know are no longer in the restaurant business. We do admire all that they are currently doing with catering and their online store, however. Please check them out: https://www.foodforthesouthernsoul.com/
We love really good BBQ, and we found just that in our visit to Food for the Southern Soul in the historic Charleston City Market.
Before we get into our thoughts on the visit, let me tell you how to get there because you're going to want to go, and if you look it up on a map, you will be lost, unless, of course, you use our map.
Food for the Southern Soul is a "'Cue-osk" (kiosk), as they call it, inside the market building that is headed by the impressive Daughters of the Confederacy building facing Meeting Street. This particular section of the market is bounded by North and South Market, Church, and Meeting Streets. Most will enter the Church Street end, I suspect. See the photos below for reference.
It is air-conditioned in that area, which is nice, but there is nowhere to sit and eat in that particular space. There are, however, tables and other places to sit just outside.
Heather, Camden, and I headed downtown not knowing exactly where we would eat, but BBQ was the destination.
We had three options we were choosing from: Queology, Cumberland Smokehouse, and Food for the Southern Soul. All of them are in the same area, around the market.
Cumberland is relatively new. Queology has been around for a while, and, honestly, I thought that is where we were going at first, but after reading the reviews, I really wanted to try Food for the Southern Soul, which I will hereafter refer to as FSS.
We parked in the garage on Cumberland Street, a good spot to park if you are visiting the market, and headed to find FSS.
With some searching, we eventually found it and waited our turn in line.
The menu is sparse. They do what they do and that's that it seems, and that's ok. The options pulled pork, beef brisket, or smoked beef sausage which you can get on a sandwich or by the pound (this option wasn't available on our visit).
With these you can just the sandwich, add chips and a drink, or 2 sides and a drink. The sides include mac & cheese, coleslaw, red rice, and banana pudding.
We each ordered the pulled pork sandwich with 2 sides. Camden and I added coleslaw and mac & cheese. Heather got the red rice and banana pudding. We all got sweet tea, I believe.
For the sandwiches, we had three sauce options: mustard, vinegar-pepper, or original (tomato-based). Heather got original, Camden got mustard, and I got the vinegar. We sat under an umbrella at one of the round picnic tables just outside on North Market to eat and enjoy.
The sandwiches were piled with a very generous serving of pulled pork. My mouth watered just watching them make the sandwiches; it looked that good, but how did it taste?
"How was the pork?" I asked later.
"Pretty good" Camden responded right away. "Pretty good" from Camden is high praise.
"Could you taste a smokey taste?" Heather asked.
"Eh…not really," he said.
"Yea, me neither," Heather agreed, "but it wasn't mushy. It had great texture; it had a great appearance, you know."
"It looked FANtastic as she was building the sandwiches, I have to tell you that," I piped in.
"You know it's real pulled pork. It's pulled; it's not chopped," Heather added.
"It's definitely pulled. There's nice strands…." I agreed.
"It's not fatty at all. It's not greasy," Heather continued. "In that respect, it's good clean bbq. Clean bbq, I think that's a good way to describe it. You know, it had nice bark on it, nice coloring."
"The pork was real clean. Not fatty. Great texture. Pulled," I echoed. "It was beautiful, and I didn't get a strong smokiness to it, either, but that may have been hidden by the sauce."
As for the sauces, we got to try all three.
Camden had the mustard.
"The mustard sauce had a mild spice," he said. "It was pretty good." He's a man of many words.
I had the vinegar sauce.
"The vinegar sauce was actually the same vinegar sauce we bought and tried at home," I noted. We have been trying to find a good store-bought vinegar-pepper sauce, and we recently bought Hagood's BlackJack Barbecue Vinegar Sauce.
"It's kind of different actually. It is good vinegar pepper sauce," I continued, "but not a great one. It lacked some of the spiciness you get with some of the Pee Dee area vinegar peppers… you know, with the red pepper flake and heavier cayenne." Overall, it complemented the pulled pork well and made for a good sandwich.
Heather had the "Original," a more standard tomato-based sauce.
"Mine was the red sauce," she said. "It was a little bit spicy, a little bit vinegary, but really tomatoey."
By that, she means "it was thick."
As each of the sauces was served on the sandwich, we didn't get to taste them separately.
As for the sides, I have to say it didn't take long for the mac & cheese to win us over.
Camden was the first to say it: "I thought the mac and cheese was real. It was REAL mac and cheese."
"As soon as I saw the mac and cheese, I knew we were eating there," I said. "I was real mac and cheese. It had a top crust formed by the melting cheese. The inside had that kind of curdy, loose, moist texture you get in homemade versions."
"The noodles were probably a little overdone," I continued. "Probably hard not to do so in such a case, but it didn't detract from it at all, just added to the softness of the dish."
In short, get the mac & cheese. The coleslaw, on the other hand, got mixed results.
"The coleslaw was very mayonnaisey, if that's a word," Camden said, "like a lot of mayonnaise taste."
"The coleslaw was interesting," I said. "It has sort of yellowish tinge to it. From what had to be mustard or turmeric, though there wasn't a mustard taste so much."
"I saw celery seeds in it, and I tasted celery seeds with the pickles," Heather added.
"There were definitely pickles in it," I agreed. "There we